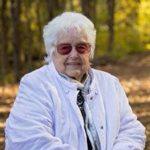 Yvonne Lillian Wells Osterhoudt, 92, of Mooresville, N.C., passed away on Thursday, July 23, 2020, at Lake Norman Regional Medical Center.
She was born on August 6, 1927, in Chazy, N.Y., to the late Leonard and Lillian Perrea Wells. Mrs. Osterhoudt worked at the K&W Cafeteria in Cornelius, N.C.
Yvonne was a loving, caring mother, grandmother, and great-grandmother, and great-great grandmother. She loved doing things and buying things for her grandchildren. Whenever anyone needed help she was there to do whatever she could to ease the stress. One of her biggest joys was her dog, Bailey. She adopted him when he was just a pup and 15 years later they were inseparable.
Before moving to North Carolina, Yvonne lived the majority of her life in Upstate New York. There she worked as a secretary for Paquette Insurance alongside Mary Morelli and Larry Paquette.
She is survived by her children, grandchildren, great-grandchildren and great-great grandchildren.
Children: Michael "Tony" Ricci and his wife Laynette; Holly Ricci; Jimmy Bombard; Lee Bombard and his wife Kathy; Andrew Bombard; Charlie Bombard
Grandchildren: Jeremy Ricci; Ronald Ricci and wife Ashley; Melody Jennings; Lisa (Bombard) Rheinhardt; Michael Bombard and wife Angela; Charlie Bombard Jr. and wife, Mechelle; Stacy Bombard; Priscilla Bombard; Tim Bombard; and Dawn Myrtle
Great-grandchildren: Haley Ricci; Lillian Ricci; Ronald Ricci; Christina Ricci; Marisa Hoffman and husband Jeff; Aleecia Rheinhardt; Cole Bombard; JJ Bombard; Faith Wager; Grace Bombard; Sean Bombard; Sofia Bombard; Charly Bombard; Riley Bombard; Bailey Bombard; David Wood; Andrew Wood; and Alex Wood
Great-great grandchildren: Tytan Hoffman; and Houstyn Hoffman
Sisters: Hazel Barie; Patricia Rock and husband Bernard; Cathy Garrand; In-laws Joyce Wells, and Lucille Wells
In addition to her parents, she was preceded in death by brothers, Orville Wells, Hubert Wells, and Joe Wells; and sisters, Betty Leduc and Elricka Varin; along with brothers-in-law Alton Garrand and Isidore Barie; and infant son, Russell Ricci.
The family will receive friends on Tuesday, July 28, from 10 to 11 a.m. with a service following at 11 a.m. at Trinity Baptist Church with Dr. Mark E. Harris officiating. Burial will follow the service at Glenwood Memorial Park.
In lieu of flowers, memorials may be made to ASPCA, www.aspca.org.
Cavin-Cook Funeral Home & Crematory, Mooresville, is serving the family of Ms. Osterhoudt. Condolences may be made to the family at www.cavin-cook.com.