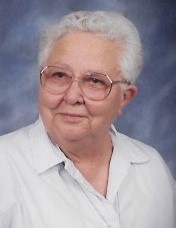 Alma Roberta Norris was born on December 6, 1920, to William Baines and Ada Sloop Norris. She passed away peacefully on July 27, 2021, at her home in Harmony, N.C.
She was preceded in death by sisters, Mable Martin, Pearle Kennedy, Mary Austin, Blanche Privette, Nell Lundy, and Nan Douglas; and brothers, Glenn Norris, W.B. "Dick" Norris Jr.
She is survived by one sister, Kathleen Norris Renegar. She was Aunt Alma to numerous nieces and nephews, and their families, who loved her dearly.
Ms. Norris graduated from Harmony High School in 1937. She worked as a housekeeper, first in Charlotte, then in Florida and in Long Island, N.Y. She moved back to Olin, N.C., around 1960 to care for her parents. Wherever she lived, she was faithful to her God and to His church, serving as friend, teacher, and co-worker to many. Alma learned to drive when she was 40 years old and lived independently until the age of 99. An ardent environmentalist, she supported various causes and believed that we were meant to care for God's creation.
She celebrated her 100th birthday while at Autumn Care of Statesville during the COVID-19 pandemic. Family and friends surprised her with a drive-thru birthday party.
Her life was also one of creativity. She was a self-taught artist and her paintings, Easter eggs and Christmas cards are cherished by all who were recipients. Alma was a prolific storyteller, sharing accounts of Norris family history and anecdotes of other family and friends.
A graveside service will be held on August 7 at 11 a.m. at Pleasant Hill Primitive Baptist Church, 1798 Buffalo Shoals Road, Statesville, N.C.
Memorials may be made to Hospice and Palliative Care of Iredell County, 2347 Simonton Road, Statesville, NC 28625 or to the charity of your choice.
Troutman Funeral Home is serving the family.