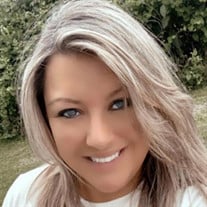 Amanda Gail Hiott Grainger, 38, of Cleveland, N.C., died Wednesday, August 25, 2021. She was the daughter of Johnny Hiott and Gail Queen Breeden and was born in Rockingham County on December 17, 1982.
Amanda was a billing clerk with Pratt Industries. She loved doing crafts, decorating, cooking, and going to the beach. Amanda loved animals, especially her fur baby, Izzie.
Those left to cherish her memory are her father, Johnny Hiott; mother, Gail Breeden; stepfather, Jackie Breeden Jr.; a brother, John Gallina (Cori-Anne); three nieces and nephews; maternal grandmother, Mildred Norton; step-grandfather, Jackie Breeden Sr.; step-grandmother, Barbara Breeden; a half-brother, Preston Breeden; two aunts, two uncles; and surrogate parents, Jeff and Tamie Kennedy.
Service arrangements will be announced later this week.
Nicholson Funeral Home is serving the family.