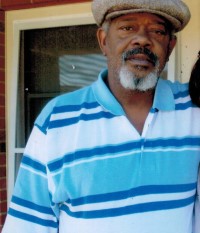 Mr. Ameen Abdullah Rasool, 68, of Statesville, N.C. — his given name at birth was Aaron Emanuel Davis — passed away Tuesday, July 27, 2021, at the Gordon Hospice House. He was born in Iredell County on July 21, 1953, to the late Emanuel Lackey Tuck and Nellie Cordan Mozer Davis.
He was preceded in death by a brother, Melwood Leonard Davi Jr.; a sister, Lorna Yevette Davis Byers; a sister-in-law, Pearlie Elizabeth Tabor Davis; and a nephew, Roderick "Roddy" Davis.
"Wine," as he was affectionately called by his friends and "Aaron" by his family, attended the Iredell County School System. He was a member of Mt. Pleasant AME Zion Church. At an early age, he joined Job Corp and at one time he worked for Cannon Mills in Kannapolis. He was an avid swimmer, Pittsburgh Steelers fan, loved fishing, listening to old school music, watching Westerns on TV, spending time with family and friends. There was nothing he would not do to help someone in need. He will truly be missed.
He leaves to cherish the memories of his life a daughter, Aprile Nichole Strickland; a son, Alhajj Malik Sherrill, both of Statesville; a sister, Nelda Davis of Statesville; a brother-in-law, Kenneth Franklin Byers of Statesville; a special friend, Mary McGill; grandchildren, A'Meiyon Je'Hahj Sherrill, Dakhia Unae Rabess and Derrick Lamont Murdock, all of Statesville; caregiver, Nelda Imes; special friends, Raywood White, Michael Houston, Rickey Lackey, Darrel Hewitt, and Vernon Keaton Jr.; and a host of nephews, nieces, cousins, other relative and friends.
A Graveside Service is scheduled for Saturday, July 31, 2021, at 10 a.m. at Belmont Cemetery, Greenbriar Road, Statesville, N.C., with Bishop Wilford Walls officiating.
Rutledge and Bigham Funeral Home is serving the family.