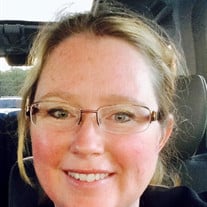 Amy Whittaker Hanna, 46, of Mooresville, N.C., passed away on Friday, June 18, 2021. Our sweet angel was called home to heaven.
She was born on October 15, 1974 in Tulsa, Okla., to Daniel R. Whittaker and Sharon Ray Heaps. Amy was the first of three children and always let the others know that she was "in charge."
As a youth, she was a girl altar server in the Catholic Church. She played basketball, softball (both slow pitch and fast pitch) and joined in with her brothers at Cub Scout events. As she grew into her teenage years, she became an enthusiastic snow skier at Mt. Baker and learned and enjoyed water skiing on Lake Whatcom in Bellingham, Wash.. When Amy entered Bellingham High School, her world began to bloom larger. She was interested in the Japanese culture and took Japanese language classes. Amy applied for a Rotary International Exchange Student Program and was selected to spend nine months in Japan, which actually morphed into a year. She came back to us and graduated high school the same year as her brother Danny. After high school, Amy attended Western Washington University for three years. She left college for a year and explored Alaska and worked for the State of Alaska. Upon returning to the Lower 48, Amy met Chip Hanna, the man who would become her husband and father of her children. It was a whirlwind courtship. Amy was beautiful, fun, engaging, and lovable. They were married on September 1, 2001, in Bow, Wash. They spent their honeymoon in Scotland and received comfort and caring from the Scots during the 911 terror disaster.
Chip and Amy lived in Washington, California, Pennsylvania, Massachusetts, and North Carolina during their 19-plus year marriage. In 2006 Amy and Chip welcomed their first born son and named him William. Amy was a thoughtful and loving mom and I remember her bursting out in tears when the visiting nurse came to the house to weigh the three-day old newborn and announced that he had lost 3 ounces since birth. It was not what this mother had expected. She wanted to see him grow and gain. That attitude would not change — she always wanted to see her children grow and gain in all ways. In 2007, Amy and Chip welcomed their second born son and named him after his dad, Charles, but tagged him with "Chase." And chasing she did! The "Irish twins" kept her busy, and she loved every minute of watching them grow and learn and develop into fine young men. Amy loved her sons and spending time with her family. She was a wonderful wife and a great cook. She enjoyed visiting the beach and the mountains. Chip and Amy continued to travel and visited England, Costa Rica, Ireland and a trip to Japan to reconnect with her Exchange Student Families. At the age of 40, she graduated in Massachusetts with a degree in Dental Hygiene from Quinsigamond Community College. She was passionate about her patients and providing them with the best care. She practiced in North Carolina.
Amy always was optimistic, supportive, kind and loving. She became a leader in her sons' Boy Scout Troop 173. She had an infectious laugh, beautiful smile, and was loved by many. She will be missed by everyone who knew her, but never forgotten.
In addition to her parents, Daniel and Sharon; she is survived by her husband, Charles "Chip" Hanna III; sons, William Hanna and Chase Hanna; step-father, Dr. David Heaps; brothers, Dan Whittaker (Amy), and Dane Whittaker (Anne); step-brothers, Matt Heaps (Traci), and Scott Heaps (Rachel); step-sister, Valerie Chatterley; mother-in- law, Marsha Johnson ( Tom Robertson); father-in-law, Charles H. Hanna Jr. (Maria); brother-in-law, Craig Hanna (Sally); and nieces and nephews, Aubrey, Ashley, Bailey, Cameron, Cooper, Gage, Hadley, Hudson, Jessica, Kaelin, and Taylor. Her paternal grandparents, (deceased) Ray and Rosemary Whittaker; maternal grandparents, (deceased) John and Cecilia Ray.
A Memorial Mass will be held at 11 a.m. on Saturday, June 26, at St. Therese Catholic Church, Mooresville, N.C.
In lieu of flowers, memorials may be made to the charity of your choice.
Cavin-Cook Funeral Home & Crematory, Mooresville, is serving the Hanna family. Condolences may be made to the family at www.cavin-cook.com.