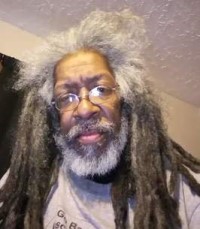 U.S. Coast Guard Seaman Anthony Martin Sims, 61, began his journey on September 2, 1960, in Addisleigh Park, Queens, N.Y. He was the son of the late Elizabeth Frances Sims and Alfred Sims Sr. Anthony's transition into his forever peaceful rest came on September 10, 2021.
He was preceded in death by his parents and a brother, Alfred Sims Jr. He leaves to celebrate his life his dearly loved companion, Shari Ramsey of the home, and surviving brother, Alan Sims of Brooklyn, N.Y. When he and Shari's union began, Tony became a fatherly figure to her children, Eronte Jones, Christoria Turner, Joshua and Matthew (Kara) Ramseur, and a god-daughter, Chyna Winston. His mother-in-law was Mrs. Sarah Ramseur. During his life, he had several close friends that he adored and valued enough to consider them family, including Brian Joyner, Mike Veal, Chris (Speedy) Sawyer, Craig Harris, Arnold and Holly Taylor, Dave Burke, Donald Bullard, Marty Strickland, Troy Henley, Robert Graves, Josh Harris, Commander Frank Hinson and his fellow Coastguard buddies. He had special cousins, Joyce Gamble, Richard Smith, Jonathan and Jennifer Gamble, along with bonus grandchildren and other friends and acquaintances.
Tony served in the U.S. Coast Guard from 1979 to 1985. He received several accolades for his service of distinction in the Ceremonial Honor Guard and was a valued member of the Color Guard and Drill Team. He was recognized for his service from Admiral J.B. Hayes from the office of The Commandant of The United States Coast Guard in 1980 as a driver for the Commandant.
Tony's life took him to vast heights. He attended Jamaica High School before transferring to Highland High School. He graduated from MMI (Motorcycle Mechanic School) in Florida as a Motorcycle Mechanic. Tony attended Pratt Art Institute, where he gained a prestigious Art Degree. He later taught Automotive and Transmission Repairs at Apex Technical School in Manhattan, N.Y. He was in various Mopar Magazines with his 1973 Dodge Challenger that he completely built himself. In his lifetime, he built several muscle cars as he taught his friends to follow suit. Through his travels he worked as an Aquarist for PetSmart, where he taught classes in maintaining saltwater aquariums and breeding of rare fish. He was last employed by Keller Technology in Huntersville, N.C., as a machine technician. As a writer, a musician, artist and a teacher, his knowledge base was vast. He had an uncanny knack for expressing his opinion and persuading others to look at life through a different lens. Tony's want to share informative information and experiences with others made him a vibrant soul that will be dearly missed.
Rutledge and Bigham Funeral Home is serving the Sims family.