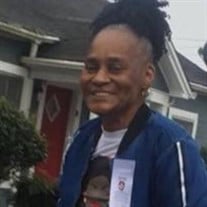 Barbara Ann Joyner Wilson, 63, of Statesville, N.C., died Tuesday, December 14, 2021, at her home. She was born in Darlington, S.C., on July 31, 1958, to the late Arthur Joyner Sr. and Marvest Hill Fleming. She was also preceded in death by a sister, Donna Murphy, and a brother, Arthur Joyner Jr.
Bobbie was a graduate of Cheraw High School and was a member of Bethel Baptist Church. She loved people, and everyone loved to talk to her. She loved dancing, cooking and Mt. Dew. She and her mother had been very close, and she always loved being with her.
Survivors include three sons, Brad Joyner (Tameika), Brandon Joyner, and Dorey Joyner, a daughter, Denetrious Miller (Willie); a stepson, Bryant Wilson; two foster sons, Jamie Gray and Joshua Collins; four brothers, Freddie Joyner, Marvin Joyner (Meshella), James Joyner, and Nathaniel Joyner; a sister, Teresa Joyner; and special grandchildren, Azaria Joyner, Addison Joyner, Nadia Ikard and Nyasia Ballard. She is further survived by a host of grandchildren, great-grandchildren, nieces, and nephews.
A Graveside Service will be held Sunday, December 19, 2021, at 2 p.m. at Oakwood Cemetery with Pastor Beatrice Balters officiating.
Nicholson Funeral Home is serving the Wilson family.