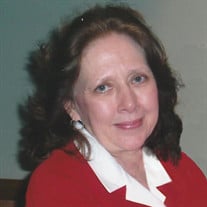 Barbara Minton Webb Ingool, 69 of Statesville, N.C., passed away peacefully on Friday, August 27, 2021, at her home.
She was born in Iredell County on October 31, 1951, to Gladys Irene Baldwin Minton and the late James Roy Minton. She was also preceded in death by her first husband of 25 years, Homer Lee Webb.
Barbara was a graduate of North Iredell High School. She retired from the Pink Tea Room at Iredell Memorial Hospital after 41 years, where she was known for her friendly smile and tasty food. She had previously attended Jesus Life Tabernacle in Wilkesboro for over 20 years and was currently a member of Living Word Ministries. Barbara loved Jesus with all her heart and enjoyed witnessing to others.
Planning and organizing family get-togethers brought her much enjoyment. Barbara was a wonderful cook and baker, and she loved making food for everyone. One of her greatest loves was her grandchildren, and she spent lots of time taking care of them. She also enjoyed traveling and shopping.
In addition to her mother, Gladys, those left to cherish her memory are a daughter, Tami Forbes (Rodney); a son, Marcus Webb (Jenny); grandchildren, Leanna Forbes, Olivia Forbes, Christina Forbes, Alyssa Forbes, Trinity Grace Webb, and Ella Faith Webb; three sisters, Diane Lewis (David), Loretta Anders (Roger), and Angela Warricks (Rodney); and several nieces and nephews. Also surviving are her husband of 18 years, Bill Ingool; his daughters, Debbie Byrd (Brian) and Lisa Robison (Chris), his grandchildren, Hunter Dagenhart, Faith Byrd, Alston Wiley, and Landon Rose; and his two great-grandchildren, Cooper and Emerson Dagenhart.
A Funeral Service will be held Wednesday, September 1, 2021, at 4 p.m. at Living Word Ministries with Pastor James Lewis officiating. Burial will follow in the church cemetery. The family will visit with friends and family on Wednesday, from 2 to 3:45 p.m. prior to the service.
The family would like to extend special thanks to the office of Dr. Hatharasinghe and Christy Moose, FNP, the office of Dr. Trinidad, and the nurses and staff at Hospice of Iredell County for their compassionate care.
Fond memories and condolences may be left at www.nicholsonfunerals.com.
Nicholson Funeral Home is in charge of arrangements.