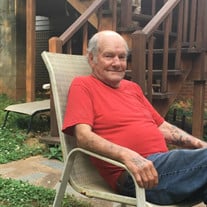 Barry Malcolm Kiser Sr., 79, of Hamptonville, N.C., passed away on Saturday, August 14, 2021. He was born on March 11, 1942 in Shelby, N.C., to the late Ben and Mildred McKinley Kiser.
Barry enjoyed fishing, hunting, wood carving, and making knives and walking sticks. He could fix anything. His passion was his family especially his grandsons. He was loved by many and will be greatly missed by all who knew him.
He is survived by his son, Barry Kiser Jr. (Ann); grandsons, Chase and Joe Kiser; brother, Ben Garland Kiser Jr.; sister, Brenda Kiser Worthey; niece, Cathy Worthey (Tammy); nephews, Robert Price (Kathy), Jody Price (Suzie), and Daniel Worthey Jr.; numerous other nieces and nephews; sisters-in-laws, Kimberly Brown (Dave), Cindy Karriker (Mark), and Brenda Caldwell (Rick) Cheryl Chiodo; and brother-in-law, John Martin (Cammie).
Memorial service will be held at 11 a.m. on Saturday, August 21, 2021, at Cavin-Cook Funeral Home Chapel with Rev. Bobby Jones officiating. The family will receive friends one hour prior to the service from 10 to 11 a.m. at the funeral home.
For those who are unable to attend the service, you may go to the following link for the live stream
https://www.youtube.com/channel/UC864hAs96dTRLVVL1la0Qlw/videos?view=2&flow=list
In lieu of flowers, memorials may be made to American Cancer Society 1901 Brunswick Avenue, #100, Charlotte, NC 28207.
Cavin-Cook Funeral Home, Mooresville, is serving the Kiser family. Condolences may be made to the family at www.cavin-cook.com.