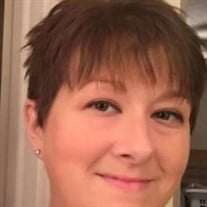 Beth Ann Underwood, 45, of Statesville, N.C., died on Monday, November 1, 2021, at her home following a lengthy illness.
She was born in Gaston County, N.C., on July 30, 1976.
Beth was a graduate of Lakeland High School in Lagrange, Ind. She was a huge fan of Notre Dame and The Fighting Irish. She loved coloring and cooking. Beth was a cheer coach, and she loved the girls she coached like they were family. She coached for several years at Celeste Henkel and then had her own company, Statesville Cheer Elite. Most of all, she loved her family. "She was the driving force in her children's lives, not letting her illness get in the way." This statement truly expressed Beth.
Those left to cherish her memory include her husband of 25 years, Duane Underwood; a son, Zachary Underwood; two daughters, Kathryn Underwood and Emily Underwood; her mother, Susan Chambers; a brother, Ralph Medlin; a sister, Rose Barnhill (Tommy); and numerous friends.
A Funeral Service will be held on Friday, November 5, 2021, at 5 p.m. at Fairview Baptist Church with Rev. Tim Campbell officiating. The family will visit with friends from 3 to 4:45 p.m. prior to the service.
In lieu of flowers, the family requests that donations be made to Nicholson Funeral Home to help cover funeral costs. Fond memories and condolences may be left at www.nicholsonfunerals.com.
Nicholson Funeral Home is serving the Underwood family.