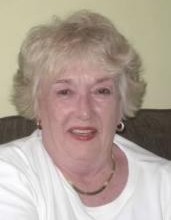 Betty Dayvault Grant, 81, of Statesville, N.C., joined the saints triumphant on Saturday, November 27, 2021. She was the daughter of Golda Porter Dayvault Parks and Jay Crouch Dayvault and was married for 35 years to Stephen Maxwell Grant, who preceded her in death in March, 2001.
Betty was the valedictorian of the Statesville High School Class of 1958. She attended Appalachian State Teachers College, where she was editor of the yearbook and Miss Appalachian (1962). She taught school for 25 years, starting in the Charlotte-Mecklenburg, Statesville City, and finally Iredell-Statesville Schools. She was hand-picked to usher in a new era of integrated schools in Statesville. Before retiring in 2003 from North Iredell Middle School, she was nominated and received the Apples Teacher of the Year Award. She was also Grade Chairman of seventh grade, and proudly served as technology chair. After her retirement from teaching, she joined Alpha Delta Kappa, Fidelis Tau, a sorority for retired teachers.
Betty was a lifelong member of First Baptist Church in Statesville, where she taught in the nursery and was president of the Fellowship Sunday School class. She was a partner at Cliff-Day and Company, serving as the chief financial officer. She also served on the Statesville Racquet and Swim Club Board of Directors, and was PTA president at East Iredell Elementary, where her children attended. She was a long-time active member of McDowell Music Club, and the American Association of University Women in Statesville.
Betty loved words. For most of her life, she started the day with a cup of coffee and a crossword puzzle. She was an avid reader and Scrabble player. She also loved to play bridge with friends and enjoyed many trips to Blowing Rock with her beloved bridge group.
Those left to cherish her memory are her two loving children, Stephanie Rietschel (Bill) of Archdale, N.C., and Adrienne Grant (Bill Kinsley) of Baltimore, Md. Her grandsons, Andrew Rietschel and Benjamin Rietschel, were her pride and joy.
Visitation is planned for 12:30 to 2 p.m. at First Baptist Church, 815 Davie Avenue, with a celebration of life to follow immediately at 2 p.m. on Wednesday, December 1. A private interment will be held at a later date.
In lieu of flowers, please make a donation to Communities in Schools or the charity of your choice.
Troutman Funeral Home is serving the family.