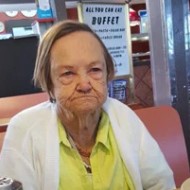 Betty Jane Combs Chambers, 75, of Stony Point, N.C., passed away Friday, January 1, 2021, at Valley Nursing Center. She was born Tuesday, June 26, 1945, in Iredell County to the late Lanyoex Fletcher Combs and Betty Lee King Combs.
Betty earned a degree in nursing and worked as a Registered Nurse.
In addition to her parents, Betty was preceded in death by two sons, Wayne Barker and Scott Barker.
Betty is survived by one son, Mike Barker; and one daughter, Tammy Lippard, both of Stony Point; two brothers, Terry Combs of Stony Point and Steve Combs of Statesville; three grandchildren, Tonya Sherrill and husband Kevin, Lynette Barker, and Candice Tait and husband Chad; and five great grandchildren, Harrison, Noah, Thomas, Roman, and Joah.
A Private Graveside Service will be conducted Tuesday, January 5, 2021, at Stony Point Cemetery. Rev. Fred Shoemaker will officiate. Due to Covid-19 there will be no formal visitation.
Chapman Funeral Home is honored to be serving the family of Betty Chambers.