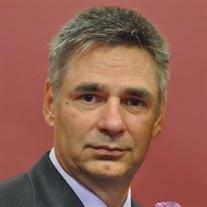 Brian Thomas Beikirch, 63, of Statesville, N.C., entered heaven on July 11, 2021, ready for his last greatest adventure, believing in the Lord, who is the creator and giver of everything that he loved and enjoyed in this life. He bravely battled cancer with grace and faith for over ten years.
Brian was born in Rochester, N.Y., on July 10, 1958, son of the late, Richard N. Beikirch and Marleigh Bergh Beikirch. He married the love of his life, Karen F. Beikirch, on May 22, 1982. They were happily married for 39 years.
Brian lived his life fully, savoring everything around him; especially his family. He had a boyish sense of wonder and an adventurous spirit about everything. He enjoyed gardening, fishing, riding his bike or motorcycle, chasing sunsets, searching for waterfalls, building model cars, cruising the lake, late-night swims, attending music concerts, early morning garage sales, playing harmonica, and going on vacations to the mountains, the beach and to Jamaica. He was a gentle, loving and kind man, and was always thinking of others.
Those left to cherish his memory include his wife Karen of the home; daughter Erin Messer (James); son Joshua Beikirch (Cassie); and daughter Bethany Neary (Matt); and five grandchildren, Madelyn Pearl Messer and Anders Clay Messer of Como, N.C., and Josie Catherine Beikirch, Thomas Earl Beikirch and Owen Bryan Beikirch of Troutman, N.C. His siblings include Clifford Beikirch of Rochester, N.Y., Margie Torpy (Don) of Rochester, N.Y., Brenda Freel (John) of Spencerport, N.Y., and Peter Beikirch (Kelly) of Farmington, N.Y. Other survivors include many loved nieces, nephews and family friends.
In addition to his parents, he was preceded in death by his brother, John "Ponce" Beikirch, and brother-in-law, Stephen Thomas Blackstock.
The family will receive friends Thursday evening, July 15, from 6 to 8 p.m. at Holy Trinity Lutheran Church, 465 Hartness Road, Statesville. A Memorial Service celebrating his life in Christ will be held at the church on Friday, July 16, beginning at 4:30 p.m. Pastor Loyd Ginn will be officiating and Pastor Peter Varvaris will assist.
In lieu of flowers donations can be made to Hospice and Palliative Care of Iredell County or Holy Trinity Lutheran Church of Statesville.
The funeral arrangements are being handled by Nicholson Funeral Home.