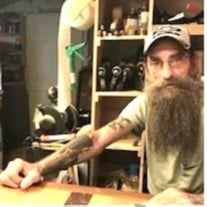 Bruce Scott Brown Sr., 60, of Statesville, N.C., passed away on Thursday, September 16, 2021, at his home surrounded by his family.
Mr. Brown was born in Orange County, Calif., on January 10, 1961, and was the son of the late William George and Isabelle Louise Peter Brown. On December 4, 1980, Bruce married the former Sandra Gibson and together they shared 40 years of marriage before his passing.
Bruce was a man who loved the outdoors. He had a passion for woodworking. He loved to make things for his children such as baby cribs for their children and porch swings, along with countless other things. Life offered its struggles and its rewards and regardless of what he faced, his grandchildren could bring a smile to his face and joy to his heart. His true passion was his family, and they will truly miss him.
In addition to his parents, Bruce was preceded in death by a daughter, Donna Kay Morris.
Along with his wife Sandra, Bruce is survived by his children, Bruce Brown Jr. (Lindsay) and Crystal Brown, both of Statesville, Patty Lou Joaquin of Lincolnton, and Tina Kruger of Medina, N.Y. He is also survived by 14 grandchildren, Jose (Anna), Brandon, Richard, Omar, Savannah, Heaven, Felisha, Dakota, Branden, Isabella, Dylan, Ryleigh, Salvador, and Paola, along with great-grandchildren, Sammi, Brielle, Caleb, and Kayden. Also surviving are one brother, Michael Peters (Terri) of Olean, N.Y., and a sister, Angie Fitt of Oregon, and many nieces and nephews.
A celebration of life service is scheduled for 6:30 p.m. on Friday, September 24, 2021, at the home of Bruce and Sandra, 122 Gains Lane, Statesville, N.C. Family and friends will share memories of Bruce.
Nicholson Funeral Home is serving the family of Bruce Brown Sr.