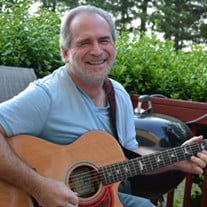 Bryan Howard Schiffer, 65, of Mooresville, N.C., passed away on September 16, 2021.
He was born on October 25, 1955 in New York, N.Y., to Murray Schiffer and the late Eleanor Peckney Schiffer.
Bryan was a lover of music and was a fantastic musician and singer. He loved playing his guitar and spending time with his many friends and family. He always enjoyed a good New York bagel, a strong cup of coffee, and a Bob Dylan song. He was greatly loved and will be dearly missed.
In addition to his father, he is survived by his wife, Peri Schwartz Schiffer; daughter Ariel Schiffer; sister Geri Fitterman; and sister Denise Benach, amongst many others.
A graveside service will be held at 2 p.m. on Monday, September 20, 2021, at Forest Lawn East Cemetery, Matthews, N.C., with the Rabbi Tracy Klirs officiating.
Cavin-Cook Funeral Home & Crematory, Mooresville, is serving the Schiffer family. Condolences may be made to the family at www.cavin-cook.com.