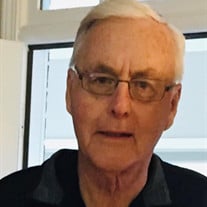 Carl Patrick Archer, 81, of Mooresville, N.C., passed away on October 3, 2021. He was dearly loved and will be sorely missed.
Carl was born July 3, 1940, to Francis and Rosa Archer in Zanesville, Ohio. He graduated from Zanesville High School and served in the Army Reserves.
In 1963, he married Marilyn Adams. They had two children, Jeff and Michelle. Carl worked at GM in Ontario, Ohio, for 36 years and also served as president of Auto Workers Credit Union. Marilyn sadly passed away in 1992. In 1999, Carl married Sharon Loyd. They enjoyed classic car shows and retirement life in North Carolina.
Carl is survived by his wife, Sharon; his daughter, Michelle (Gabriel Campanario); stepsons, Kevin Loyd and Greg Loyd; grandchildren Seth, Sam, Alex and Olivia; stepgrandchildren Adam and Stacia; five step great-grandchildren; sister Rosemary Baker; and brother Ed.
He was predeceased by his first wife, Marilyn; his son, Jeff; stepgrandson Andrew; brothers, James, Hugh, Eugene and John; and sisters Eleanor and Theresa.
A celebration of life will be held at a later time.
In lieu of flowers, the family suggests donations to Hospice & Palliative Care of Iredell County, 2347 Simonton Road, Statesville, NC 28625.
Cavin-Cook Funeral Home & Crematory, Mooresville, is serving the Archer family. Condolences may be made to the family at www.cavin-cook.com.