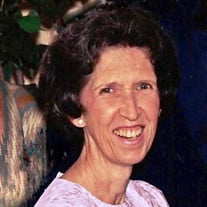 With profound sadness, her family shares the passing of Carolyn Evedna Killian Tillman on Sunday, May 16, 2021, while resting peacefully at The Hospice Home in Burlington, N.C., at the age of 86. Born in Statesville, N.C., on November 3, 1934, Carolyn was loved dearly by family and friends who will forever miss and cherish their time with her.
As the middle child of the late William Oliver and Alice Pearl (Frye) Killian, Carolyn grew up in Statesville, where she and her family were active members of Diamond Hill Baptist Church. At an early age, Carolyn received Christ as her loving Savior and the remainder of her days were spent serving Him, her family, and others.
Upon graduating from Statesville High School in 1953, Carolyn attended Mars Hill College and received her Bachelor of Arts degree from Wake Forest College in 1957. She continued her education at Southern Baptist Theological Seminary in Louisville, Ky., graduating with a Master of Religious Education degree in 1959.
Carolyn then moved to Rockingham, N.C., and became Minister of Education at First Baptist Church in 1959 and would continue to serve in various administrative positions throughout much of the rest of her life. After moving to Rockingham, she married Phillip, a Baptist minister, whom she met at seminary. Together the two were called to serve at Cobb Memorial Baptist Church in East Rockingham. While there, she became the proud mother of four children (including a set of twins), taught school, and served tirelessly in the wonderful congregation at Cobb Memorial. From the start, her spiritual gifts of hospitality and gentleness endeared her to those she and Phillip served.
The entire family was next off on a 10-year adventure as Phillip served as a Chaplain in the U.S. Air Force. Even through multiple moves required by the military, Carolyn made each new house a home. Throughout her time as a Chaplain's wife, she exhibited the same humble spirit and sweet, caring heart to all who crossed her path. That same grace and compassion was extended to her own children and grandchildren unconditionally throughout her life.
Upon leaving active duty in the Air Force, Carolyn and Phillip quickly found themselves called to minister at Mt. Zion Baptist Church in Alexis, N.C., where they served for over a dozen years. Carolyn immersed herself in the ministry of Christ with a loving and caring congregation and sank roots deep into the community. The affection was mutual, as exhibited by a comment from Pam Norris: "Her (Carolyn's) gentle ways and sweet heart make her truly one of a kind." Carolyn's impact on the lives around her can also be seen and felt in the words of another church member, Robbie Burgin, who called her "the best example of a pastor's wife. Her loving ways and caring heart I will always remember and treasure."
Upon returning to live in her hometown of Statesville, she was able to spend more of her time focused on her grandchildren. Indeed, nothing seemed to bring her more joy than visits with grandchildren.
Additionally, she found happiness and friendships in the First Baptist Church Statesville family and the Pioneer Sunday School class.
Carolyn's immaculate housekeeping was legendary among the family, but it was her love of cooking and entertaining, and her excellence in doing so, that will always be a highlight for her children, grandchildren and friends alike.
In 2012 they moved to Twin Lakes Retirement Community in Burlington, N.C., and found a new church home at First Baptist. Carolyn joined Phillip playing cornhole and bingo, and greatly enjoyed making new friends. She also enjoyed taking walks around the lake and watching the many ducks that would wander from the lake into her backyard. In her final years, Carolyn, who had cared so lovingly for her husband for almost six decades, became the focus of Phillip's care and attention.
In addition to her parents, Carolyn was preceded in death by brothers, Rev. William Harold Killian and Michael David Killian, who was a veteran of the Vietnam War.
Other family members who loved her dearly and will miss her greatly until they meet again in God's Heaven are her husband for 60 years, Phillip; daughters, Tamara Rouse (Shannon) and Kelli Kupiec (Joe); sons, Danny Tillman (Jana) and Kevin Tillman (Kellie, fiancée); grandchildren, Megan, Chandler, Jordan, Sarah, Griffin, Matthew, Carson, Hartley, Ryan, and Zachary; great-grandson, Joseph; sister-in-law, Betty Ann Killian; and a host of nieces, nephews, cousins and their families.
The family wishes to sincerely thank the extraordinary staff and compassionate caregivers at AuthoraCare Hospice, Home Instead Senior Care and Twin Lakes Community Home Care Agency, all located in Burlington. Additionally, they want to recognize those assisting with Carolyn's service: Nicholson Funeral Home in Statesville, Ms. Janice Hager from Alexis and Ms. Lynn Killian from Hendersonville, N.C.
Memorial donations may be made to AuthoraCare (Hospice) Collective, 914 Chapel Hill Road, Burlington, NC 27215, or at www.authoracare.org. Donations may also be made to the church or charity of your choice.
A memorial service celebrating Carolyn's life will be held Saturday, May 22, at 2 p.m. at Nicholson Funeral Home in Statesville with the family receiving friends from 12 to 1:30 p.m. Burial will follow the service at Oakwood Cemetery in Statesville.
Please share memories and condolences with the family at www.nicholsonfunerals.com.
You may watch the service live here: https://view.oneroomstreaming.com/authorise.php?k=1621295128115802
Nicholson Funeral Home is serving the family.