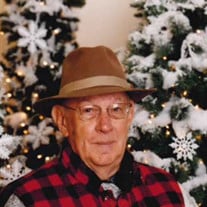 Charles Cotesworth Randall Jr., 93, of Mooresville, N.C., died on August 3, 2021, at the Veterans Administration Hospice in Salisbury, N.C., following declining health.
Charlie was born in Christiana, Tenn., on May 31, 1928. He was the son of the late Frances Belle Ellis and Charles Cotesworth Randall. He was also predeceased by his brother, Robert Noble "Bob" Randall, and sister-in-law, Maryann Gardner Randall.
Charlie was a descendent of Lincoln County, N.C., native James Pinckney Henderson, first governor of Texas. Charlie graduated from Lincolnton High School and attended Appalachian State University. He was a veteran and served in the United States Army during the Korean War, as a Morse code operator in Germany, and was honorably discharged. Charlie came from humble beginnings: he and his family spent his early life traveling with The Bruce Greater Shows up and down the East Coast during the Depression. He spent most of his adult life working in Chevrolet parts departments in North Carolina and South Carolina, and retired as parts manager of Nalley Chevrolet in Georgia. Charlie was an honest man with a kind heart and a contagious sense of humor. He loved telling stories about his life to everyone he met. He was a life-long bachelor until he met the love of his life Joann Evelyn Cook in 2007.
Survivors include his long-time companion, Evelyn Cook; nieces and nephew, Beth Williams (John) of Mooresville, N.C., Noble Randall (Kim) of Lake Norman, N.C., Christiana Turner (Bart) of Savannah, Ga., Holly Reeves (John) of Mint Hill, N.C.; his great nieces and great nephews, Zac and Zoie Randall, Eleanor, Lawson (Siria), and Audrey Turner, Jessica Crews (Eric), and Christian Reeves. He is also survived by Evelyn Cook's children, Kathleen Cook of Cornelius, N.C., George Cook (Anna) of Cary, N.C., and their children, Kelly and Alex Cook, Molly Benham (Allan) of Wickenburg, Ariz., and Christine Cook of Surprise, Ariz.
The family will hold a private interment at Hollybrook Cemetery in Lincolnton, N.C., at a later date.
Cavin-Cook Funeral Home & Crematory, Mooresville, is serving the Randall family. Condolences may be made to the family at www.cavin-cook.com.