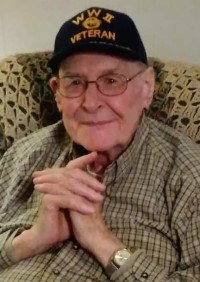 Mr. Charles "Moe" Lafayette Brannon, 95, of Mooresville, N.C., passed away on Saturday, January 16, 2021, at the Gordon Hospice House.
Mr. Brannon was born June 17, 1925, in Greenville, S.C., and was the son of the late Charles "Charlie" Brannon and Bessie Smith Brannon. He was a graduate of Greenville County Schools and served in the U.S. Marine Corps during WWII in the Pacific Theatre. He was married to the late Mavis Swaney Brannon and together they were members of Broad Street United Methodist Church in Mooresville. He was retired from Templon Spinning and also worked 19 years with Aisle Pawn Shop.
He is survived by one daughter, Donna Brannon Troutman; son-in-law and caregiver, Eddie Troutman of Mooresville; and one son, Terry Scott Brannon and wife Juana of Charlotte, N.C.
Graveside funeral services will be held 11 a.m. on Tuesday, January 19, 2021, at Glenwood Cemetery with Rev. Brian Beaver officiating.
In lieu of flowers, memorials may be made to Broad Street United Methodist Church, Mooresville, N.C., or the Gordon Hospice House. Online condolences may be made to the family at www.troutmanfuneralhome.com.
Troutman Funeral Home is serving the family.