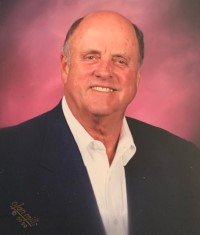 Charles "Charlie" Rudolph Onsrud, 90, of Lake Norman, N.C., who recently moved to The Pines in Davidson, N.C., passed away Sunday, November 21, 2021, after complications from knee replacement surgery. Charlie was born August 26, 1931, in Chicago, Ill., and was the son of the late Rudolph F. Onsrud and Angeline M. Onsrud.
He was a graduate of Lane Tech High School and studied Mechanical Engineering at Purdue University. He served in the U.S. Army and was based in Japan during the Korean War.
Before and after the Army, Charlie worked for his father at Onsrud Machine Works in Chicago. He sold and engineered machinery for the furniture industry and traveled so frequently to the Carolinas that, in 1964, he moved his wife Nancy (deceased 1969), and three sons to Statesville, N.C. He worked at Garrison Machinery selling the Onsrud machines.
In 1971, Charlie married Jane Julian of Winston-Salem, N.C. Known for his love of the water, Charlie and Jane moved to Lake Norman. It was at a drafting table in his boathouse that Charlie designed and sold his first patented Inverted Router. This revolutionary design improved functionality and overcame the inherent safety issues associated with a traditional router and is, in fact, still in production today. In 1976, from this boathouse startup, C.R. Onsrud Inc. of Troutman, N.C., was born. His spirit of American innovation is the cornerstone of the company and a legacy that has carried on to date.
He was the recipient of many prestigious awards. He was a two-time winner of the Challengers Award for distinguished achievement in the advancement of furniture and woodworking industry; The Baldwin Award from WMMA for most exemplary leadership and outstanding contributions to the millwork industry; Partner of the Year Award from the Woodworking Machinery Distributors Association (WMDA), and President's "E" Award for excellence in expansion of U.S. exports.
He formally retired in 1996, turning the reins over to his sons; however, he still came to the office most days to visit the production floor, ask about the new technologies, chat with employees, and watch the company grow.
He was admired and respected in the industry and built enduring relationships. He was a longtime member of First Presbyterian Church in Statesville, a member of Statesville Kiwanis Club, and the Statesville Country Club. He also served a term as director on the Board of Wood Machinery Manufacturers of America (WMMA). He was an Army veteran and a proud American. Although never shy about speaking his mind, he did so in a genuine, kind, and honest way. For all of those who knew him, he is remembered fondly for his big smile and his even bigger heart.
In addition to his wife Jane, Charlie is survived by three sons, Tom (Shelley) of Mooresville, Bill (Betty) of Mooresville, and John (Amelia) of Union Grove; six grandchildren, Alyson Onsrud Strickland (Michael), Jeff Onsrud (Jennifer), Kelly and David Onsrud, and James and Nancy Onsrud; four great-grandchildren, Charley and Jack Strickland, and Eva and Harrison Onsrud. He is also survived by his sister, Carolyn O'Brien of Illinois.
Charlie was preceded in death by two sisters, Shirley Lind and Lenore Erickson.
A Celebration of Life service will be held at 2 p.m. on Wednesday, December 1, 2021, at First Presbyterian Church in Statesville. The family will visit with friends following the service at the church. A private family burial will be held at a later date. Memorials may be made to St. Jude Children's Research Hospital, Shriners Hospital for Children, the American Heart Association, or to a charity of your choice.
Online condolences may be made to the family at www.troutmanfuneralhome.com.
Troutman Funeral Home is serving the Onsrud family.