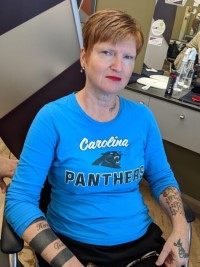 Cynthia "Cindy" Bernice Amox, 48, of Statesville, N.C., passed away on Sunday, February 7, 2021 at her residence.
Cindy was born on October 7, 1972, in Killeen, Texas, and was the daughter of the late George and Peggy Kuykendall Amox. She attended Statesville Senior High and worked at Hunt Manufacturing and Toter.
She is survived by one daughter, Aurora Hernandez; one sisiter, Celia Jujan and husband Jose L.; one brother, Nolan Amox; four nieces, Halley Amox, Amber Amox, Lydia Amox, Ruby Amox; and great nieces and nephew, Khole Amox, Alex Amox, Kayden Amox and Ellie Hernandez.
A funeral service will be at a later date.
In lieu of flowers memorials can be made to Gordon Hospice House at 2341 Simonton Road, Statesville, NC 28625 and condolences can be made to the family at www.troutmanfuneralhome.com.
Troutman Funeral Home is serving the family.