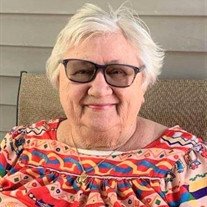 Dagmar Brooksmith, 83, of Mooresville, N.C., passed away on April 27, 2021. She was predeceased by her husband Edward C. Brooksmith.
Survivors include brother Peter, nephew Uwe, and great-niece Celina, all residing in Germany. She is also survived by numerous friends who considered her a second mother, grandmother, sister, or aunt.
For those that had the pleasure of knowing Dagmar, she lived an amazing life and embraced it fully. Hidden by her family during World War II, she later escaped East Germany into West Germany prior to the wall being built. She worked for a time in Germany and England before sailing to Canada to work for IBM. A friend talked her into traveling with her to Australia, where she stayed six months before returning to Canada.
During that time, she maintained correspondence with a serviceman she met in London who later became her beloved husband. She and Ed were stationed at various locations until he retired from the Air Force. Her favorite was Alaska, where they lived for three years. Following his retirement, they lived in Orlando, Fla.
Dagmar worked in Customs at Greater Orlando Airport. She continued to travel during those years and there can't be too many countries she has not seen. During her later years, she moved to North Carolina, where she stayed until her death.
Dagmar had a unique ability to attract people into her orbit, and she never met a stranger. Her passion for life was evident in her daily demeanor, where everyone was greeted with a smile and welcomed for coffee and a visit at any hour.
Cavin-Cook Funeral Home & Crematory, Mooresville, is serving the family of Mrs. Brooksmith. Condolences may be made to the family at www.cavin-cook.com.