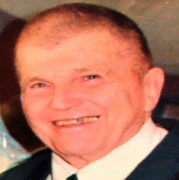 Daniel James Elsenheimer passed away at home after a long illness on June 29, 2021. Dan was born in Lansing, Mich., on August 20, 1936, to the late James and Virginia Elsenheimer. In his younger years growing up in Lansing he enjoyed walking down to the tracks and watching the trains go by.
Dan and his brother Gene spent many hours exploring the woods and waters of the surrounding areas checking them out to later hunt or fish. He helped his father, Jim, with his electrical business as well as taking care of several cottages around Glen Lake. He also worked in construction with some local builders and boat building at a local marina on Glen Lake.
Dan attended Empire School and played multiple sports, but he really seemed to enjoy playing basketball. He played on the varsity team all four years of high school. At school is where he also met his wife, Mary Emily Bunker. They raised their five children until Mary's untimely death.
Dan met his next love Barbara Fiant at a Christian singles meeting. Even though neither of them were looking, the stars aligned that night and God blessed them 100 days later with a marriage that lasted almost 42 years.
They became the Brady Bunch, a blended family of 10 children that were loved by Dan. Dan was head over heels in love with Barb and the life they had together. Barb loves him for being a strong Christian and selfless man.
In his spare time, he loved to hunt and fish with his favorite beagle "Brownie." He loved deer season with most every year getting his buck.
In his later years, Dan became a real prayer warrior. He prayed for his family, friends and those he did not even know. Most of all liked talking about his family, and his love for the Lord.
He loved and cared so deeply for his family. But most of all he loved his Lord and Savior Jesus Christ!
Dan is survived by his wife, Barb Elsenheimer; his brother, Gene; sister, Donna; sons, Jeffery, Timothy and Daniel; daughters, Lisa and Jullia; his blended-family children, Daveen Fiant-Forehand, Dale Fiant, Diana Moreland; and foster daughters, Tammie Arling and Jane Potts. He is also survived by 24 grandchildren and 21 great grandchildren.
in lieu of flowers he asked for donations in his name to Gordon Hospice house of Statesville or the Church of Christ benevolent fund.