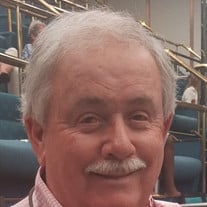 David Odis Stephens, 72, of Mooresville, N.C., passed away on Thursday, September 30, 2021. He was born on December 6, 1948, in Surry County, N.C., to the late Odis and Betty Mitchell Stephens.
Mr. Stephens was a veteran in the Army Reserves. He loved going to car shows. He was a classic car enthusiast. David loved boating and spending time with family and friends.
In addition to his parents, he was preceded by a son, Brandon Stephens; and close friend, Mildred Billie Borrgeois.
He is survived by his children, Robert Stephens (Christy), and Caroline Moser; his partner, Karen Stephens; brother, Barry Stephens (Terri); sister, Susan Bolen (Jay); grandchildren, Kaela, Dylan, Hannah, and Bailey; and great grandchildren, Lacie, Jaxx, and Millie.
Funeral services will be held at 11 a.m. on Tuesday, October 5, at Simmons Grove Baptist Church, 443 Simmons Grove Church, Pilot Mountain, NC, 27041, with Rev. Joel Stephens officiating. Burial will follow the service in the church cemetery.
Cavin-Cook Funeral Home & Crematory, Mooresville, is serving the Stephens family. Condolences may be made to the family at www.cavin-cook.com.