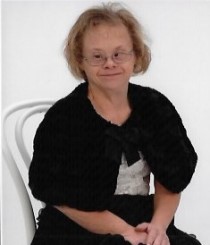 Deborah Jean Noel, 53, of Harmony, N.C., passed away peacefully at the Gordon Hospice House in Statesville, N.C., on March 11, 2021.
Debbie was born February 10, 1968, in Tazewell, Va. She was the daughter of the late Ira Jackson Noel and Alice Frances Ball Noel.
She was a graduate of Tazewell High School. She was a member of Eagles Refuge Ministries. She loved her family and church. She enjoyed singing, dancing and coloring.
She was preceded in death by her parents, Ira Jackson Noel and Alice Frances Ball Noel; one brother, Tommy Douglas Noel; and aunt, Maggie Mary Magdalene Mash.
She is survived by her cousin/guardian, Shelby and Johnny Bullard, Hadassah Bullard; several cousins, Eagles Refuge Ministries Family; Clara Mabe of Wilkesboro, her CAN (caregiver); Jessica Lynn Blackwood; one sister, Linda Sue Noel Nowlin; one brother, Michael Jack Noel; and one sister-in-law, Karen Noel.
A graveside service will be held on Sunday, March 14, 2021, at 12 noon at Eagle Refuge Ministries.
In lieu if flowers, memorials can be made to Eagles Refuge Ministries Building Fund or Gordon Hospice House. Flowers purchased for the family should be sent to 109 Eagles Refuge Drive, Statesville, NC 28625.
Troutman Funeral Home is serving the family.