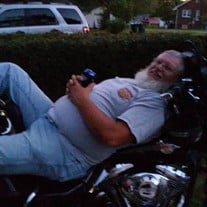 Don Ilan Brooks, 62, of Kannapolis, N.C., passed away on Sunday, September 26, 2021, at Atrium Health-Cabarrus.
He was born on June 18, 1959, in Mooresville, N.C., to the late Leary and Grace Baker Brooks. Mr. Brooks enjoyed Harley Davidson motorcycles, working on cars, singing karaoke, and watching TV, especially Sons of Anarchy. He liked eating What-a-Burger, Red Hots and mustard/mayo sandwiches. He enjoyed playing Santa Claus and was loved by everyone. He was a loving man and adored spending time with his family and grandchildren; everyone called him "Pawpaw."
Don is survived by his wife, Rebecca Creswell Brooks; children, Don Bradley Brooks, Dakota Brooks, Brian White, Jenna Helms (Lee), Zach Cline (Irene), and Donnie Owens; sister, Lindsey Curtis (Chuck); grandsons, Landon Roger Helms and John Ilan Helms; fur babies, Lucy and Raven; and many, many extended family and friends.
A Memorial Service will be held at 2 p.m. on Thursday, September 30, at Heritage House of Cavin-Cook Funeral Home with Eddie Karriker officiating. The family will receive friends following the service. The family ask the ones attending to dress casual.
A Celebration of life will be held at 4 p.m. on Saturday, October 2, at 4770 Enochville Road, Kannapolis, NC 28081.
In lieu of flowers, memorials may be made Patriot Guard Riders at www.patriotguard.org/donations/tribute-donation.
Cavin-Cook Funeral Home & Crematory, Mooresville, is serving the Brooks family. Condolences may be made to the family at www.cavin-cook.com.