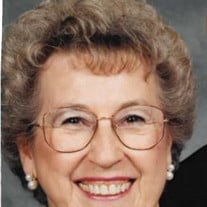 Donna Hawn Ott, 87, of Mooresville, N.C., passed away on Thursday, August 19, 2021, at her home. She was born on June 6, 1934, in Noble, Ind., to the late George and Ethel Smith Hawn.
Donna and her husband Roger enjoyed their home in Blowing Rock for many years. They were charter members of the Lake Norman Shrine Club and she was Past Worthy Matron of the Order of the Eastern Star Adah Chapter 258. Donna was a faithful member of the McDonald's breakfast club. She and Roger loved cars and they were members of the V8 Club. Donna was truly a good wife, mother, grandmother, and great grandmother.
In addition to her parents, she was preceded in death by her husband, Roger Daniel Ott; and granddaughter, Stephenie Brotherton.
She is survived by her daughters, Debbie Nelson and husband Gary, Corinne Warlick and husband Richie, and Rachele Brotherton and husband Steve; sister, LaVonne Linn and husband Delbert; brother, and Carl Hawn and wife Nancy; grandchildren, Jason Warlick and wife Andrea, Chad Nelson, Joshua Brotherton and wife Megan, Jacob Warlick, and Cynthia Parker and husband John; great grandchildren, Carter, Parker, Regean, and Jacob Warlick, Griffin Parker, Sadie Pagan, and Colton Brotherton.
A graveside service will be held at 11 a.m. on Saturday, August 28, at Glenwood Memorial Park, Mooresville, with Eddie Karriker officiating.
For those who are unable to attend the graveside, you may go to the following link for the live stream https://www.facebook.com/CavinCookFuneralHomeServices/
In lieu of flowers, memorials may be made to Hospice & Palliative Care Lake Norman, 705 Griffith Street, Suite 203, Davidson, NC 28036 or WhiteStone, a Masonic and Eastern Star Community, (payable to MESH, LLC) 700 S. Holden Road, Greensboro, NC 27407.
The family would like to express their appreciation for the loving care and support provided by Michele Levine and Susan and Rob Locke of Homewell Care Services.
Cavin-Cook Funeral Home & Crematory, Mooresville, is serving the Ott family. Condolences may be made to the family at www.cavin-cook.com.