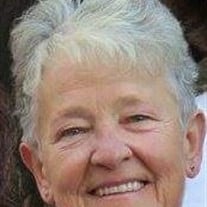 Doris Jean "DJ" Towner Kohler, 78, of Mooresville, N.C., has gone onto Glory on Sunday, September 5, 2021. She was born and raised in Campbell, N.Y. She was the middle child of Laura and Ray Towner Sr.
DJ,as she was known to all who loved her, was a wonderful mother, grandmother, daughter, sister, and friend. She never met a stranger and helped anyone in need at all times. She was a retiree of Corning Inc. before moving to Mooresville, N.C., to live with her daughters. She loved her doggies, BellaBellaBella and Penny Poodle and kitties, Dominic and Konoko.
DJ was an avid Elvis and Matthew McConaughey fan. She enjoyed traveling, adventures, and Bingo; but she especially loved her family. Her famous one-liner when asked how she was feeling was "with my fingers." She had a wit that surpassed all others and was quick with a comeback. DJ was loved by all who she came in contact with and was the most incredible cook. She always showed her love through food and if you walked in her home the first question she asked was "are you hungry?" and she would not take no for an answer. DJ loved with a fierceness like no other and loved everyone as Jesus Christ her Savior loved her.
In addition to her parents, she was preceded in death by her daughter, Beth Bucio; and grandson, Antonio Trei Bucio.
She is survived by her daughters, Treci Rogers of Mooresville, N.C., Jennifer (Bud) Tyler of Lindley, N.Y., and Becky (Blake) Briggs of Mooresville, N.C.; siblings, Joyce (Gary) Cosgrove of Myrtle Beach, S.C., and Ray (Mary) Towner Jr. of Painted Post, N.Y.; special sisters, Gayle Manupella, Patricia Granger, and Nancy Hallock; special sons, Javier Bucio, Michael (Michelle) Cleveland, and Alberto Ayala; grandchildren, Thomas (Danielle) Calescibetta, Lorisa (Andrew) Faylor, Emily Calescibetta, Michael (Torri) Cleveland, Harry Cornelius, Courtney Cleveland, Ashley Cleveland, Sidonio Bucio, and Hunter Tyler; great grandsons, Royce Michael and Harlowe Alfred; and numerous nieces, nephews, and bonus kids who all called her Mom.
The family will have a private celebration at a later date in New York.
Cavin-Cook Funeral Home & Crematory, Mooresville, is serving the Kohler family. Condolences may be made to the family at www.cavin-cook.com.