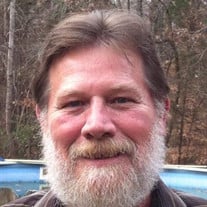 Edward "Tom" Thomas Sadowski died on December 20, 2021, at the age of 66, in Mooresville, N.C. He unexpectedly succumbed to Covid-19 after a relentless battle in a critical care unit just days after he rang the bell following his final chemo treatment for lung cancer. His loving wife was at his side as he peacefully passed in his sleep.
Tom grew up in a small house in Ferndale, Mich., with nine siblings. He was the youngest of his siblings and had a twin brother. While in high school, he was a member of the swim and wrestling teams. Tom's unique method of spelling words caught the eye of many, especially when he would pen grocery lists including items such as pepironie, motzi ronie cheese, fig nuton, and stake. Tom worked a newspaper route for most of his childhood until he was old enough to work as a dishwasher at a nightclub. Tom was known to enjoy life and party with his friends every chance he got.
Tom met his forever wife Laura in 1981 at a computer college. Within a year, they moved to Mooresville, where they raised three amazing children. Tom and Laura's relationship was anything but boring. Tom's favorite way to show his love was to pick on you and tell the absolute worst jokes. Tom and Laura recently celebrated their 37th wedding anniversary.
Tom and Laura owned a lawn care business for 17 years. Tom was also employed as a dock worker at Yellow Freight, where he retired after 30 years. His work family was a big part of his life, but he made sure everyone knew that he got paid by the hour. He was never in a rush. In fact, one of his famous quotes was "I'm not Rushin, I'm Polish."
Tom was a self-proclaimed cribbage master. He taught all his children at a young age to play cribbage but also taught them to watch his counting because he always seemed to win. His other hobbies included playing the lottery, drinking adult beverages, and playing solitaire on his iPad.
He was preceded in death by his father, Joseph; his mother, Anna; his brothers, Anthony and Andrew; and his sisters, Cecilia and Grace.
Tom is survived by his wife, Laura; his children, Katie (Eber), Nicholas (Amy), and Rebecca (Josh); his siblings, Mary Ann, Joseph, Robert, and twin brother Edmund Sadowski; and his grandchildren, Robert, Gabriel, Liam, Londyn, Milo, and Levi.
A celebration of life will be held by the family on Saturday, January 1, 2022, from 2 to 6 p.m. at 2060 Cannon Farm Road, China Grove, NC 28023.
Cavin-Cook Funeral Home is serving the Sadowski family. Condolences may be made to the family at www.cavin-cook.com.