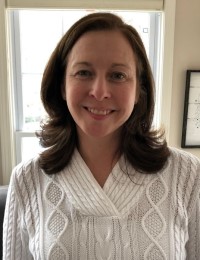 Erin Leigh Harris Allison, 42, of Blowing Rock, N.C., and formerly of Statesville, N.C., passed away unexpectedly on Saturday, July 10, 2021.
Erin was born February 14, 1979, in Iredell County and is the daughter of Kenneth "Kenny" Dale Harris and JoAnne "Jody" Johnson Harris of Statesville. Erin was a graduate of North Iredell High School, Class of 1997, and also received her Associate Degree in Nursing from Mitchell Community College. On January 13, 2016, she married William "Will" Locke Allison IV of Blowing Rock.
Erin was full of life and she loved her family more than life itself. She was outgoing, with a bubbly personality and never met a stranger. She was full of compassion and care for others. Erin loved music, being outdoors, living in Blowing Rock, and doing arts and crafts with her daughter.
She was very intelligent and a perfectionist. She wanted to do her best at all she did. Her goal in life was to make her family happy. She was always loving and affectionate. She never ended a conversation without saying "I love you" and if in person always a hug. Erin will be forever in our hearts and minds and missed by all who loved her. Our lives won't be the same without her in it.
In addition to her husband and parents, Erin is survived by three children, Rachel Mackenzie Ketchie of Statesville, Kenneth Noah Ketchie of Statesville, and Mary Edith "Edie" Allison of Blowing Rock; one sister, Suzanne Warren (Ross) of Statesville; one brother, Ryan Harris (Sheena) of Union Grove; one niece, Logan Warren; three nephews, Gage Henderson, River Sharpe, and Slone Harris; father- and mother-in-law, William Locke Allison III and Joy Allison; and a sister-in-law, Jennifer Allison Simms (Frank) and her children, Amilee Simms and Easton Simms.
Funeral services will be held at 3 p.m. on Thursday, July 15, 2021, at Western Avenue Baptist Church with Beth Davidson officiating. Burial will follow in Oakwood Cemetery. The family will receive friends on Thursday from 1 to 3 p.m. before the funeral hour at Western Avenue Baptist Church.
Active pallbearers will be Gage Henderson, Ross Warren, Frank Simms, Brian Gantt, Scott Mayhew and Tommy Parr.
Memorials may be made to the Erin Allison Memorial Fund for her children's fund, P.O. Box 1356, Blowing Rock, NC 28605.
Troutman Funeral Home is serving the family.