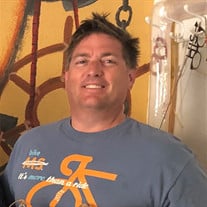 Francis "Chip" Graham Wilson Jr., 55, of Mooresville, N.C., passed away on May 29, 2021. He was born on September 27, 1965, in Tyrone, Pa., to Francis Wilson Sr. and Marlene Donlevy.
Chip was married to Tania Johnson Wilson of Mooresville, North Carolina on May 9, 1992, in Charlotte, N.C. He is survived by his wife; daughter, Kayla Wilson; daughter Erika Wilson; father, Francis Wilson Sr.; and mother, Marlene Donlevy. Chip is also survived by two sisters, Crystal Williamson and Becky Williams, both of Pensacola, Fla. Chip came from a large family who will miss him dearly.
He was preceded in death by his grandparents, Clarence Rhoades and Pearl Rhoades; and his aunt, Cindy Rhoades.
Chip was a project manager with Emerson Power and Water Solutions in Charlotte, N.C. He earned his bachelor's degree in Mechanical Engineering and has worked in many different fields. He also had his Professional Engineering License as well as his Project Management License.
Chip had a passion for cycling. He attended many cycling events and participated in numerous events for charity. He had a close group of friends throughout the cycling community. Chip was always a fun-loving person to be around. He was always ready to "go riding." He was never too far away from his bike.
Chip also loved spending time with family and friends. He was a compassionate, caring, and fun-loving person. He was not a stranger to anyone. Everyone he knew could count on him helping out somewhere, whether it was a cycling event, church event, or even school event. He was very dedicated to volunteering his time and efforts wherever he was needed.
Visitation will be held Saturday, the 19th of June, 2021, from 10 to 11 a.m. at Cavin-Cook Funeral Home.
A Memorial Service for Francis "Chip" Wilson will be held on Saturday, June 19, 2021, at 11 a.m. at Cavin-Cook Chapel with Blake Bouldin officiating.
Cavin-Cook Funeral Home & Crematory, Mooresville, is serving the Wilson family. Condolences may be made to the family at www.cavin-cook.com.