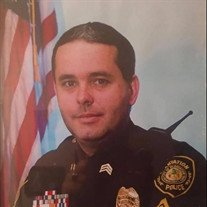 Francis "Frank" McMenamin, 56, of Statesville, N.C., died Sunday, April 11, 2021, at Wake Forest Baptist Medical Center in Winston-Salem. He was born in Hollywood, Fla., on May 15, 1964, to the late John McMenamin and Evelyn Magee McMenamin.
Frank was a police officer for the Plantation, Fla., Police Department for more than 20 years and truly loved his work. More than anything, he loved his family and spending time with them.
Those left to cherish his memory are his wife, Joyce Hart McMenamin; a son, Alek McMenamin (Mara Hairyes); a grandson, Aiden McMenamin; a brother, John McMenamin; several nieces and nephews; and his four special "brothers," Allen, Larry, Eric and Ken.
Private services will be held.
In lieu of flowers, memorials may be given to Plantation Police Department Explorer Orogram in honor of Frank: 451 NW 70th Terrace, Plantation, FL 33317.
Nicholson Funeral Home is serving the family.