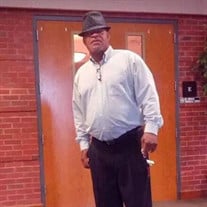 Garry Blackwood, 63, of Statesville, N.C., passed away on Tuesday, November 2, 2021, at Iredell Memorial Hospital. Born on December 13, 1957, in Iredell County, he was the son of the late William Turner Blackwood and Annie Mae Gallmon Blackwood.
Mr. Blackwood was a member of Jesus Saved Ministries, where he served in the Audio and Visual Department for over 15 years. He was a loving husband, father, grandfather and brother. He was his daughter's "Super Hero," who taught them everything, how to be encouraging, protective and give great advice and be a role model to others."
In addition to his parents, William Turner Blackwood and Annie Mae Gallmon Blackwood, he was preceded in death by his sister, Ethel Mills; and brothers, Dennis Blackwood, James Blackwood, and John Blackwood.
Those left to cherish his memory include his wife of 36 years, Annetta Farrar Blackwood; his daughters, Lisa Saunders and husband Jermaine, and Jennifer Farrar; his grandchildren, Kirk Lovell, Keion Lovell, Aniyah Spears, Montrell Spears and Kyrianna Pless; sisters, Linda Sanders, Ruth McLaughlin, Judy Lawrence and Asalee Blackwood; brothers, Calvin Blackwood and Tony Blackwood; and a host of nieces and nephews.
A Service to celebrate the life of Garry Blackwood will be held 2 p.m. on Sunday, November 7, 2021, at the Christian Outreach of the Piedmont in Statesville with Bishop Aljamel Stephens and Pastor Penny Stephens officiating. The family will receive friends 30 minutes prior to the service at the church beginning at 1:30 p.m.
Online condolences may be made to the family at www.nicholsonfunerals.com.
Nicholson Funeral Home has the honor of serving the family.