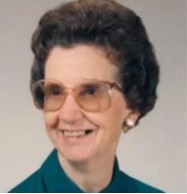 Geneva Moose Sherrill, 94, of Mooresville, N.C., passed away on December 13, 2021. Born on September 29, 1927, in Iredell County, N.C., she was the daughter of the late Henry Daniel and Edna Mae Bailey Moose.
Mrs. Sherrill was a graduate of the Mooresville Central High School, Class of 1945, and a lifelong resident of Mooresville.
Along with her husband, Kemp Kistler Sherrill, she worked for 28 years at their place of business, K.K. Sherrill Texaco Service Station, Highway 150 West. She later accepted employment with the Mooresville City Schools, working 12 years in food service. Mrs. Sherrill retired after four years of food service at Rusk House, Davidson College.
She was preceded in death by her husband, Kemp K. Sherrill; brothers, Henry Daniel (H.D.) and Haston Jacob (Jake) Moose; and sister, Sybil Moose Morrow, Jackie Moose Sherrill.
Mrs. Sherrill is survived by two sons and daughter-in-law, Kelly Kistler and Frankie Sherrill of Jacksonville, Fla, Bobby Douglas (Squirrel) and Sheree Sherrill of Mooresville, and Pat Rathbone of Tellico Village, Tenn.; brother, Hal Moose and wife Lynn of Olin, N.C.; grandchildren, Khevin Kistler Sherrill, Ashley Thompson and husband Matt, Brooke Sherrill, Brian Kistler and wife Amber Sherrill of Jacksonville, Fla.; great grandchildren, Stevie Christine Sherrill of Mooresville, Charles Mason Thompson of Mooresville, Colton Matthew Thompson of Mooresville, Jada Reese Leslie of Mooresville, Addison Claire Leslie of Mooresville, Arleigh Katheryn Sherrill and Andrew Kistler Sherrill of Jacksonville, Fla.; sister-in-law, Anne Barnett Moose of Denver, N.C.; and numerous nieces and nephews.
Funeral services will be held at 11 a.m. on Friday, December 17, 2021, at Cavin-Cook Funeral Home Chapel with Kelly Sherrill officiating. Burial will follow the service at Iredell Memorial Park, Statesville.
The family will receive friends prior to the service from 10 to 11 a.m. at the funeral home. A reception will follow the burial from 1 to 2 p.m. at Heritage House of Cavin-Cook Funeral Home.
Cavin-Cook Funeral Home, Mooresville, is serving the Sherrill family. Condolences may be made to the family at www.cavin-cook.com.