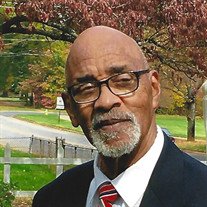 George Wilson Jr. was born on November 13, 1939, to the late Lillian Williams Wilson Davis and the late George Wilson Sr. He departed this life on earth on April 18, 2021.
He graduated from Morningside High School in Statesville, N.C., in 1958. He enjoyed the time spent making memories with his classmates. He attended Fayetteville State University and graduated with a B.S. in Elementary Education in 1962. While at Fayetteville State University, he was the quarterback of the football team and pledged Omega Psi Phi, Delta Gamma Chapter 1960. Wilson went on to teach seven years at his alma mater, Morningside High School. After time spent in the classroom, he entered into the local industrial world, where he worked at several companies before retiring.
Wilson was married to Doris Jean Jarman Wilson for 52 years. She preceded him in death. In addition to his parents and wife, he was also preceded in death by a son, Todd Ernest Wilson; a brother, Jimmie Lee Wilson; and a sister, Irene Stinson.
He leaves to cherish his memories of life one daughter, Tonya Wilson Reid of Statesville; three sons, George Wilson III and Corey Nichols, both of Statesville, and Monte Nichols of Daytona Beach, Fla.: eight grandchildren, Dominque Nichols, DePaul Nichols, Ayana Nichols, Zenadia Reid, Aliyah Wilson, Coby Wilson, SaCoreya Nichols and Corey Nichols Jr.; three great grandchildren, Mila Maddox, Payce Nichols and Olivia Sanchez; a host of nieces, nephews, cousins and other relatives and friends.
When Wilson gave you a life lesson, he would end it with his favorite saying: "2 + 2 = 4….I DON'T GIVE A DAMN HOW YOU LOOK AT IT."
Celebration of life services will begin at 6 p.m. and last until 9 p.m. on Friday at the pavilion at Martin Luther King Jr. Park, 911 Lakewood Drive, Statesville NC 28677.
Condolences may be sent online to the family to www.nicholsonfunerals.com. Memorials may be given to Hospice & Palliative Care of Iredell County, 2347 Simonton Road, Statesville, NC 28625.
Nicholson Funeral Home is entrusted with the arrangements.