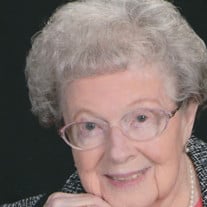 Glenolu Withers Harbinson passed away on Tuesday, November 23, 2021. She was 95 years old, and loved and supported her family every day of her life.
Glennie was born June 24, 1926, in Maiden, N.C. She took a business course at Lenoir Rhyne College and worked briefly as a payroll clerk for Burlington Industries. She was married to George Keener Harbinson on June 19, 1946, and they remained in a loving relationship for 61 years before George passed away on October 25, 2007. They spent most of their years in the Mooresville community and traveled extensively throughout the United States, Europe, Canada, and the Bahamas.
As a member of Prospect Presbyterian Church for many years, Glennie served as President of the Prospect Women and taught Sunday School for all ages. She was a loyal member of the choirs of several churches and remained so until the age of 90. Glennie was noted for her exceptional baking; her pies and cakes were welcome contributions to church bazaars and at family gatherings. The Harbinsons loved to square dance and Glennie held offices (including President) in the Spinning Moors square dance club. She also served as President of the Mooresville chapter of the AARP. Following George's death, Glennie established and organized a support group for Alzheimer's caregivers and described that volunteer work as her most rewarding.
In addition to her husband, Mrs. Harbinson was preceded in death by one son, Charles Samuel Harbinson of Sherrills Ford. She is survived by one son, William Grady Harbinson and his wife Sandy of Boone and Sunset Beach, N.C; one daughter-in-law, Sandi Harbinson of Sherrills Ford; four grandchildren (Billy Harbinson, Chris Harbinson, Amanda Matheson, and Ashley Ensley); and nine great-grandchildren (Sydney, Andy, Charley, Walker, Lani, Katie, Julie, Mason, and Caleb).
A service to celebrate Glennie's life will be held at 3 p.m. on Sunday, November 28, 2021, at Mt. Pleasant Methodist Church, 4136 Mt. Pleasant Road, Sherrills Ford, N.C., with Rev. Jonathan Brake officiating. (Please consider wearing a face covering if you are not vaccinated.) The family will receive friends prior to the service at 2 p.m. in the fellowship hall. Burial will follow the service in the church cemetery.
In lieu of flowers, a gift to honor Glennie's life can be made to the Harbinson Scholarship Fund in Music Education at the Hayes School of Music, Appalachian State University, 813 Rivers Street, Boone, NC 28608.
Cavin-Cook Funeral Home & Crematory of Mooresville is caring for the family of Mrs. Harbinson. Condolences may be made to the family at www.cavin-cook.com.