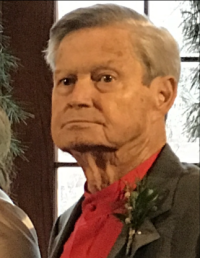 Harold James Mitchell, 88, of Troutman, N.C., passed away on Wednesday, October 20, 2021, at Gordon Hospice House in Statesville, N.C.
Harold was born on November 2, 1932, in Alexander County and was the son of the late Jim Mitchell and Cecil Fincannon Mitchell. He was a charter member of Shepherds Fire Department and a member of Sons of Confederate Veterans and former member of Shepherd Lions Club. Harold was also a member at Rocky Mount UMC for 70 years. He was a such a giving man who enjoyed antique shopping, flea markets, watching Gunsmoke and Westerns. He loved attending or watching Atlanta Braves baseball games. Harold was a regular for breakfast at Ol' Bob's BBQ with his friends and family. He enjoyed going to Dollywood and taking his grandchildren to Tweetsie Railroad. He served in the U.S. Army during the Korean Conflict.
In addition to his parents, Harold was preceded in death by his wife of 68 years, Louise Ledbetter Mitchell and grandson, Matthew Mitchell.
Harold is survived by his three children, Ann M. Alley (Dennis) of Troutman, Tony Mitchell (Susan) of Statesville, and Pam M. Smith (Rudy) of Olin; and grandchildren; Sunshine Miller, Carrie Phifer, Crystal Tomblin, Melissa Stewart, Lindsey Mitchell, Joshua Smith, Kayla Campbell and Patrick Smith. Also surviving are his great grandchildren; Taylor Phifer, Austin Phifer, Grant Miller, Allie Miller, Jaken Campbell, Raylan Tomblin, Hayden Tomblin, and Colton Stewart; and great great grandchildren, Ava Phifer, Brady Phifer, Jordan Phifer and Berkleigh Phifer.
Funeral service with full military honors will be held at 3 p.m. Monday, October 25, at Rocky Mount UMC with burial to follow in the church cemetery. A visitation will be held 2 to 3 p.m. Monday.
Memorials can be made to Gordon Hospice House, 2341 Simonton Road, Statesville, NC 28625 or Rocky Mount UMC, 1739 Perth Road, Mooresville, NC 28117. Online condolences can be made to the family at www.troutmanfuneralhome.com.
Troutman Funeral Home is sering the family.