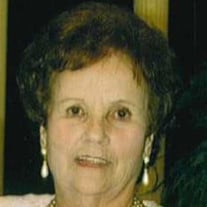 Helen Aleen McLaughlin, 91, of Mooresville, N.C., passed away on July 30, 2021. She was born on September 14, 1929, in Iredell County, N.C., to the late Joseph and Mary Sparks Shoemaker.
Helen loved to travel to the mountains and to visit flea markets. She enjoyed dancing when she was younger, and she would grow big gardens and canned all her food. She was a hard worker and a great cook. She loved her family and always enjoyed visits with all her grandchildren.
In addition to her parents, Mrs. McLaughlin was preceded in death by her husband of 59 years, Paul Brown McLaughlin; daughter, Linda Ann Bowen; grandson, Joshua Logan McLaughlin; and four sisters and six brothers.
She is survived by her sons, Gerald McLaughlin (Kathy) and Michael McLaughlin (Kittie); grandchildren, Connie McLaughlin (fiancé, Justin Clouse), Eric McLaughlin (Yvon), Jesse McLaughlin (Julia) and Leah Holub (Christopher); 11 great-grandchildren; 2 great-great-grandchildren; and numerous nieces and nephews.
The family would like to express their heartfelt appreciation to the caregivers of Central Carolina Home Care for making it possible for Helen to spend her final days in the comfort of her home.
A visitation will be held from 5 to 7 p.m. on Sunday, August 1, 2021, at Cavin-Cook Funeral Home and Crematory, Mooresville, N.C. Funeral services will be held on Monday, August 2, 2021, at 11 a.m. at Centenary United Methodist Church, Mt. Ulla, N.C., with the Rev. Joe Collins officiating. The family asks that everyone wear a mask and take COVID precautions.
For those who are unable to attend the service, you may go to the following link for the live stream:
https://www.facebook.com/CavinCookFuneralHomeServices/
In lieu of flowers, memorial contributions can be made to Centenary United Methodist Church, 620 Centenary Church Road, Mt. Ulla, NC 28125.
Cavin-Cook Funeral Home Crematory, Mooresville, is serving the McLaughlin family. Condolences may be made to the family at http://www.cavin-cook.comwww.cavin-cook.com.