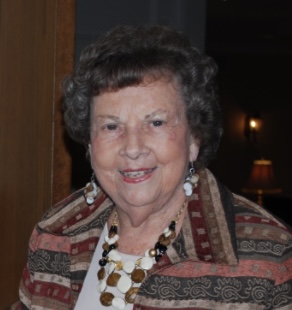 Helen Mae Waugh Meadows of Mooresville, N.C., was called home in a peaceful manner by her Lord at Inlet Coastal Resort Assisted Living on Sunday, August 22, 2021, in her 92nd year. Her life was well lived, and she was well loved!
Helen was born on February 6, 1929, in Iredell County to the late John Clinton and Eula Waugh. As an older child of the ten in her family, Helen had early exposure into what it would take to pursue her life's passion of helping and serving others. Helen's birth mother passed away at a young age, and she was heavily relied upon to help with her siblings.
In 1947, she married the love of her life, Luther Meadows. They lived together for almost 70 years. Luther spent a career on the road as a trucker while Helen was committed to staying behind and building a loving home for their four boys. Being the consummate host and homemaker extended well past when the boys left. Even as an empty nester, Helen always enjoyed hosting Sunday lunches for her family after church where you were guaranteed a glass of some of the best sweet tea, homemade biscuits, and memorable stories — many of which inevitably lead to lots of laughs. You didn't have to be family to feel the warmth of Helen's heart. She always had a special knack for making you feel like you were part of her family.
In her later years, you could always find her on the go — whether it was her faithful involvement at Shearer Presbyterian Church in Mooresville, traveling with friends, or one of her regular stops at the flea market in search of a great deal. Helen truly enjoyed her Church family, she loved helping and doing for others, and Shearer Presbyterian Church created a wonderful opportunity to do just that while sharing the love of the Lord. She had a long-standing relationship with God and was very blessed with his faith to her dying breath.
Family was the pivotal essence of Helen's life. She was proud and honored to be the matriarch, mother, grandmother and great-grandmother to our large family. She has been a major presence in the lives of her children and grandchildren. Helen was a good mother who always took care of her children and did the best she could to teach and guide them. She was a loving grandmother and "Mamaw" to many.
This gentle, loving, caring and wonderful woman has left a permanent mark etched on our hearts and will be supremely missed by her family.
In addition to her parents, she was preceded in death by her husband, Luther Hobson Meadows; along with a son, Mitchell Todd Meadows; great grandson, Arthur Hobson Meadows; brothers Robert "Buck" Waugh and Jack Waugh; and sisters Betty Jean Hester, Peggy West, and Evelyn Caldwell.
Helen is survived by sons, Steve Meadows and wife Grace of North Myrtle Beach, S.C., Barry Meadows and wife Kim of North Myrtle Beach, S.C., Jeffery Meadows and wife Lew Ann of Mooresville; daughter-in-law, Jennifer Meadows Holt; twelve grandchildren and twenty-four great grandchildren; brothers, Jimmy, Johnny, Jerry and Larry Waugh, and sister Vera Jarvis.
A graveside service will be held at 10 a.m. on Saturday August 28, 2021, at Shearer Presbyterian Church with Dr. Steve Stout officiating.
In lieu of flowers, memorials may be made to Shearer Presbyterian Church, 684 Presbyterian Road, Mooresville, NC 28115.
Cavin-Cook Funeral Home & Crematory is serving the Meadows family. Condolences may be made to the family at www.cavin-cook.com.