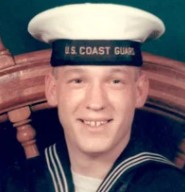 James "Ed" Edward Stanley, 68, passed away January 8, 2021, after a recurrence of an aggressive rare cancer. He was born June 25, 1925 in Panama City, Fla., the son of the late John Edward Stanley and Margaret King Stanley.
He proudly served his country in the United States Coast Guard and was awarded the National Service Medal and Good Conduct Medal. Ed was an expert electrician; he worked both commercial and residential construction, but had an amazing talent for machine electronics. He loved the beach and fishing, even if it was just having a rod in the water while waiting for the fish to bite.
Ed was a man of faith, loved the Lord and enjoyed listening to His word. Most of all, he was a devoted husband, father, and grandfather that loved spending time in the company of his family and friends.
Left to cherish his memory are his wife of 48 years, Sandy Stanley; son, Brian Eugene Stanley; daughters, Pamala Nicole Stanley-Vowels (Charles) and Krissy Stanley-Wood (Ezekiel); grandchildren, William Connor Vowels, Kyndal Nicole Wood and Seth Ezekiel Wood; sisters, Virginia Estes (Ernest) and Diane Copley; canine companions, D.C. Stanley and Bowser Stanley; and numerous other loving family and friends.
The body will lie in state Wednesday, January 13, 2021, from 12 to 5 p.m. at Nicholson Funeral Home in Statesville for those who want to pay their respects. A private memorial service will be held Thursday and will be available for others to attend virtually on Friday, January 15, 2021, on the Nicholson Funeral Home website.
Memorial donations may be made to Gordon Hospice House of Statesville, NC.
Please share memories and condolences with the family at www.nicholsonfunerals.com.
Nicholson Funeral Home is serving the family.