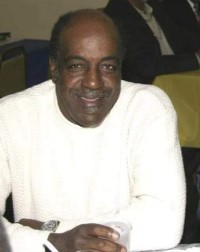 Mr. James Edward Woods, son of the late Walter and Veatrice McClelland Woods, was born in Iredell County on April 22, 1948. He departed this life at Iredell Memorial Hospital on February 8, 2021.
He attended Unity High School and was a lifelong member of St. Joseph Baptist Church. Prior to his retirement, he was employed by Uniglass. He had a love for cars.
In addition to his parents, he was preceded in death by a sister, Alberta Nixon; a brother, Charles Woods; and a sister-in-law, Edith Woods.
He leaves to cherish the memory of his life his wife, Betty Bailey Woods of the home; his children, Anthony (Tina) Woods, Keshia Burton of Washington, D.C., Shanika (Eric) Dalton of Statesville and Nicholas Woods of the home; one brother, Arthur (Sandra) Woods of Statesville; sisters, Barbara Alexander, Carol Morrison, Letha (Bobby) Morrison, Annette Woods and Brenda Bennett, all of Statesville; a brother-in-law, David Bailey of Charlotte; a sister-in-law, Rena Bailey of Charlotte; a nephew raised in the home, Steven (Symone) Bailey of Statesville; seven grandchildren, Antonio Woods, Mykia Woods, Jasmine Dalton, Eric Dalton, Jamison Woods, Zacchaeus Murdock, and Jamiyla McGee; and one great granddaughter, Jouz'nee McGee of Statesville; and a host of nieces, nephews, cousins, other relatives, the St. Joseph Baptist Church Family and friends.
Funeral service is scheduled for Sunday, February 14, 2021, at 11:30 a.m. at St. Joseph Baptist Church Cemetery, 413 Trinity Road, Statesville.
Rutledge and Bigham Funeral Home is serving the family.