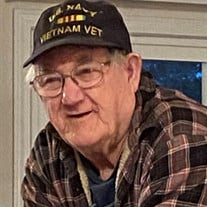 James Herman Nichols, 80, of Maiden, N.C., passed away on August 19, 2021. Mr. Nichols was previously a resident of Mooresville, N.C., for over 60 years. He was born on January 11, 1941, in Iredell County, N.C., to the late Julius and Nellie Huffman Nichols.
James proudly served his country in the U.S. Navy. He loved politics and was a hard worker. He was a good man, a good father, and grandfather. He loved his family and they loved him and will deeply miss him.
In addition to his parents, he was preceded in death by his brothers, Donald Junior Nichols and Darrell Nichols.
He is survived by his son, David Nichols; grandchildren, Tyler Nichols (Courtney), Kaylee Dickson (Nathan), and Erica Nichols; great-grandchildren, Chatam Nichols, Waylon and Winston Dickson; and sister, Gail Moore.
A visitation will be held on Tuesday, August 24, 2021, from 10 to 11 a.m. with a funeral service following at 11 a.m. at Cavin-Cook Funeral Home, Mooresville, N.C. Burial will follow the service at Salisbury National Cemetery, Salisbury, N.C., at 1 p.m.
Cavin-Cook Funeral Home & Crematory, Mooresville, is serving the Nichols family. Condolences may be made to the family at www.cavin-cook.com.