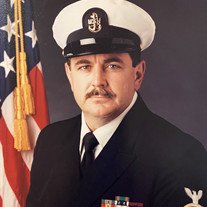 Chief Petty Officer James Randall "Ike" Isenhower, retired, passed away unexpectedly in his hometown of Mooresville, N.C., at the age of 69.
Randall was born to Georgia Reaba Hardesty and the late James Caleb Isehower on October 9, 1951. Ike, as he was known by former co-workers and some friends, spent a majority of his career in the U.S. Navy as an Aeronautics Electrician. Randall, as he was known by family and hometown friends, was someone who knew how to have a good time.
Ike was an avid NASCAR fan, with his favorite driver being Dale Earnhardt Sr. He attended many NASCAR races and would have the race on TV every Sunday. He also loved Harley-Davidson motorcycles, and he owned a few motorcycles throughout his life. At almost any time you could catch him wearing a Harley Davidson T-shirt with a Dale Sr. jacket. In his later years, he reaccepted the Lord into his life, and was known to read his Bible and the most recent copy of the Upper Room magazine daily.
Randall is survived by his sons, Clinton (Jennifer) and Andrew (Jori) Isenhower; grandsons Joshua, Addison, and Hudson; his mother, Reaba Hardesty; sisters Donna (Bob) Glover and Luana (Randy) Rogers; nieces, Wendy Winecoff and Holly (Bobby) Mullins; nephew, James (Tia) Rogers; and several great-nieces, great-nephews, great-great nephews, and a great-great niece.
A celebration of life service will be held at Cavin-Cook Funeral Home in Mooresville on Saturday, March 20, 2021. Receiving of friends and family begins at 1 p.m. with the service beginning at 2 p.m. For those who are unable to attend the service, you may go to the following link for the live stream:
https://www.youtube.com/channel/UC864hAs96dTRLVVL1la0Qlw/videos?view=2&flow=list
In lieu of flowers, the family requests that donations be made to Disabled American Veterans, DAV.
Cavin-Cook Funeral Home & Crematory, Mooresville, is serving the Isenhower family. Condolences may be made to the family at www.cavin-cook.com.