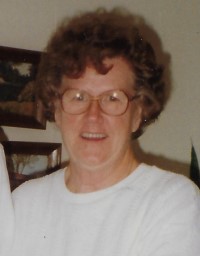 Jessie Cleo Sherrill Peacock, 92, of Harmony, N.C., passed away peacefully at her home on Tuesday, May 4, 2021. Cleo was born March 6, 1929, to the late Ellsha Williams Reavis and Cora Enda Riddle Reavis in Iredell County.
She was also preceded by her husband, Roy L. Sherrill; four infant babies; brother, Hubert Reavis; half-sister, Mozzele Lee; second husband, Paul Peacock; and step-daughter, Rebecca Peacock.
Cleo is a graduate of Harmony High School, Class of 1948. Cleo worked on the farm, and for Blackwelders as a seamstress for 17 years when she retired around 1988. She enjoyed working outside, taking walks, outings with family and friends, her class reunions and lending a helping hand when she could. She really loved to relax with her word search puzzles.
Survivors include her daughter, Dorcas Sherrill; twin brother, Robert Leo Reavis; sister, Norma Jean Bowden; numerous nieces and nephews; six step-children; numerous step-grandchildren; and grandchildren.
The family will have receive family and friends on Thursday, May 6, 2021, from 10 a.m. to 5 p.m. at Reavis Funeral Home of Statesville. There will be a graveside service at 2 p.m. on Friday, May 7, 2021, at Rocky Springs Baptist Church with Pastor Steve Hedgecock officiating.
The family would like to say a special thank you to the medical staff and Hospice for Cleo's care, and an extra special thank you to family members and friends for their support. It was very much appreciated.
Memorials may be made to Rock Springs Baptist Church, c/o Sharon Krider, 572 Powell Bridge Road, Harmony, NC 28634 or to Gordon Hospice House, 2341 Simonton Road, Statesville, NC 28625.
Reavis Funeral Home of Statesville is honored to care for the Sherrill Family.