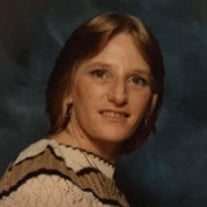 Mrs. Joann "Tina" Carol Asbury Bullock, 69, of Statesville, N.C., passed away Sunday, May 30, 2021, at Wake Forest University Baptist Medical Center in Winston-Salem, N.C. Tina was born in Tazwell County, Va., on November 28, 1951, and was the daughter of the late Roby Asbury and Martha Helen Helmandollar Myers.
On July 5, 1978, she married Lonnie Bullock and together they shared 42 years of marriage before her passing.
Tina worked as a presser with Jenkins Cleaners for over 44 years. She has been a staple for the company and really enjoyed working with Jenkins.
Her dedication to her job was only surpassed by her love for her family. She was a devoted wife, mother, grandmother and great-grandmother. Tina was a firecracker of a woman. She was also a feisty-spirited woman. That is what helped to keep her family in check. But that feisty spirit was what gave her family the assurance of her love and her dedication to their family. She also had a quiet and personal relationship with Jesus. That personal relationship is the blessed assurance that she is now a rest in her heavenly home.
In addition to her parents, she was preceded in death by two brothers, Sammy Asbury and Roger Dale Robins.
Along with her husband Lonnie, Tina is survived by four children, Jody and Timmy Griffith, both of Statesville, Jeff Jarvis of Portland, Ore., and Linda Griffith of Tennessee. She is also survived by three grandchildren, Emily Firman (Kyle) and Jacob Griffith, both of Mooresville, and Jo Jo Griffith Jr. of Virginia She is further survived by two great-grandchildren, Sara Leatherman of Woodleaf and Waylon Firman of Mooresville.
A celebration of life service will be conducted at 2 p.m. on Friday, June 4, 2021, in the Nicholson Funeral Home Chapel with Rev. James Lewis, Sr. Officiating. The family will visit with friends from 12:30 until 2 p.m. at the funeral home. Burial will follow in the Iredell Memorial Gardens Cemetery. The services will be live-streamed starting promptly at 2 p.m.
Online condolences can be made to the family at www.nicholsonfunerals.com.
Nicholson Funeral Home is honored to be serving the family of Joann "Tina" Bullock.