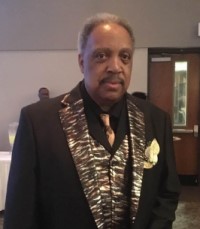 Bishop Joe Thomas Byers Sr., son of the late Lizzie Mae Byers and late Thomas Wesley Byers, was born on December 27, 1946, in Iredell County, N.C. He entered into eternal peace on Friday, January 1, 2021, at Iredell Memorial Hospital in Statesville, N.C.
Bishop Byers graduated from Unity High School in 1964 after advancing two grades in one year. He owned and operated his own custodial business, Byers Custodial Services, for several years. He retired from the Iredell-Statesville School System after 30 years of service. He also worked for Blanton and Moore Inc. in Troutman, N.C. He was the Presiding Elder of Faith Deliverance for Jesus, where he served for 23 years.
He was united in marriage to Overseer Doctor Virginia Byers for 55 years. His favorite hobbies included watching WWE, Gunsmoke, and Bonanza. He unofficially served as Neighborhood Watch for the entire City of Statesville! Whenever you heard the vroom of his black Ford F-150, you could be sure Bishop Byers was surveying the area.
In addition to his parents, Bishop Byers was preceded in death by his brother, Robert Lee Byers, and a grandson, J.T. Byers.
He leaves to cherish the memory of his life his wife, Overseer Doctor Virginia Byers of the home; four daughters, Victoria (Keith) Phifer of Mooresville, N.C., Paulette Byers, Priscilla (Kermit) Lowe, and Debbie (Harold) Borders, all of Statesville; one son, Joe Thomas Byers Jr. of Statesville; fifteen grandchildren, Crystal Byers, Monique Parson, Justan Ramsey, Andrea Hird, Josh Byers, Tanisha Reid, Christina Byers, Betrell Reid, Dante Lowe, Markeith Phifer, Rosaline Geter, Chasity Lowe, Faith Byers, and Audreyana Geter; and a host of great grandchildren; one brother, Pastor J.C. Byers of Statesville; three sisters, Juanita (Luke) Witherspoon of New Jersey, Ella (Walter) Graham and Mary Lois Walker, both of Troutman, N.C; and nephews, nieces, cousins, other relatives, Faith Deliverance for Jesus Family and friends.
Celebration of Life Services will be conducted Tuesday, January 5, 2020, at 1 p.m. at Rutledge and Bigham Funeral Home. Pastor Charles Young will officiate and Bishop Wayne Brown will eulogize with burial to follow in the Iredell Memorial Park.
There will be no public visitayion due to COVID-19. You can only enter the funeral with a funeral pass, which will be given to the family.
General public viewing will be held on Monday, January 4, 2021, from 3 until 6 p.m. and resume Tuesday, January 5, 2021, from 10 a.m. until the funeral hour. You can also view Bishop Byer's remains virtually on-line at www.youtube.com. (Search Bishop Joe T. Byers Viewing.)
Visit the Book of Memories for Bishop Byers at www.rutledgeandbigham.com. Rutledge and Bigham Funeral Home is serving the Byers Family.