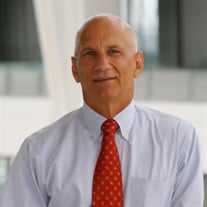 John Joseph Doll of Mooresville, N.C., went to his heavenly home on May 20, 2021, at the age of 72 surrounded by his loving wife and children.
John was born on September 8, 1948 in Mercer County, Ohio, and grew up in Coldwater, Ohio, to Helene and Anthony Doll. He attained his bachelor's degree in chemistry from Bowling Green State University in 1971 and earned a master's degree in physical chemistry from Penn State University in 1974. Upon college graduation, he began a remarkable 35-year career with the United States Patent and Trademark Office (USPTO), beginning as a junior Patent Examiner and then quickly moving into leadership positions, including Supervisory Patent Examiner, Director of the Biotechnology Patent Examination Technology Center, and Special Assistant to the USPTO Director. In 2005, he was appointed to the position of Commissioner for Patents. In November 2008 he became the Deputy Under Secretary of Commerce for Intellectual Property and Deputy Director of the USPTO. Before retiring in October 2009, he was appointed Acting Under Secretary of Commerce for Intellectual Property and Acting Director of the USPTO. He received many distinguished awards from the Department of Commerce and also received the Vice-Presidential Hammer Award. After retirement he began a second very successful career as a much sought-after expert witness and consultant of USPTO practice and procedure.
After college, John resided in Arlington, Va.; Chantilly, Va.; and Huntingtown, Md.; before retiring in 2009 and moving to Mooresville, N.C.
John was an energetic, charismatic man devoted to family and friends. He loved boating, yard work and tinkering with his 1967 Corvette. He treasured family vacations and was famous for his special margarita recipe. His quick wit, easygoing and welcoming attitude made him a friend to everyone. He volunteered regularly at church and other events and was a generous philanthropist. After his lung cancer diagnosis in 2019, he became an active advocate for lung cancer research.
John was preceded in death by his parents, Helene and Anthony Doll, and his brother, Robert. John is survived by his wife of 33 years, Patricia; his son Joshua and daughter-in-law Melissa of Winston-Salem, N.C.; his daughter Jessica Doll of Troutman, N.C.; his stepson Christopher Sexton and stepson-in-law Brian Pace of Manassas, Va; four grandchildren, Spencer Doll, Brycen Doll, Evelyn Leverone, and Louise Leverone; his sister-in-law Phyllis Doll of Coldwater, Ohio; an aunt, Irene Schilling of Coldwater, Ohio; three nieces and one nephew; and eight grandnieces and grandnephews.
A Celebration of Life Service will be conducted at The Cove Church, 197 Langtree Road, Mooresville, NC on June 19, 2021, at 10 a.m.
The family requests that in lieu of flowers that donations be made to the Lung Cancer Research Foundation, the Cancer Hope Network, or St. Jude Children's Hospital.
Cavin-Cook Funeral Home & Crematory, Mooresville, is serving the Doll family. Condolences may be made to the family at www.cavin-cook.com.