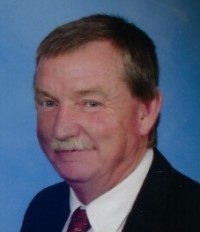 John Stephen "Steve" Rogers, 71, of Harmony, N.C. departed this world on November 13, 2021, from the Gordon Hospice House in Iredell County.
Steve was born on January 31, 1950, in Frankfort, Ky. He was the son of the late James Shirley Rogers and Marilyn Garrard (Burdin) Rogers. In addition to his parents, Steve was preceded in death by his loving wife, Ima Joyce (Clark) Rogers, and his great granddaughter Kiley Elizabeth Reaves.
John attended schools in Kentucky and Texas. Steve married the love of his life, Ima Joyce (Clark) Rogers, in 1976. Later, he began a career in sales. He worked as a salesman most recently with Tec Utilities until retiring this year. Steve was of the Methodist faith and a member of Harmony Methodist Church.
Steve leaves behind to cherish his memory a daughter, Eva Foster (Ian) of Camden; brothers, James Gregory Rogers of Frankfort, Ky., and Jeffrey Irvin Rogers (Mary) also of Frankfort, Ky.; and sister, Cathy Olsen (Jan) of Springtown, Texas. Also surviving Steve are his grandchildren, Kimberly Ryan, Sarah Raney, and Alex Foster, and great-grandchildren, Lucas and Logan Reaves, who will all miss him greatly.
Steve was an avid golfer when his health allowed and passed on his love to anyone who would join him on the course. To his immediate family he was "Granddaddy," a persona he took on proudly and a role he fulfilled to the fullest.
A funeral service for Steve will be held on Friday, November 19, 2021, at 6 p.m. at Harmony Methodist Church. Steve will be laid to rest with his wife Joyce in Harmony, N.C.
Reavis Funeral Home of Statesville is honored to serve the family.