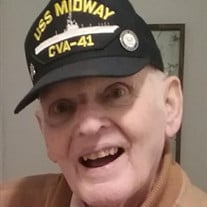 John William "Bill" Marshall passed away peaceful at Lake Norman Regional Medical Center on August 12, 2021. He was 85 years young. Born in Ohio, he was the son of the late John Paul Marshall and Nola Mione Shaw.
Growing up as a child, he loved to shoot the rifle, go hunting and working with model planes. As he grew older, he got into scuba diving, sky diving and boating. He enjoyed watching Westerns. Bill joined the military in 1954. He proudly served his country during the Vietnam War aboard the USS Midway. He started out as a Parachute Rigger and eventually retired as a Chief in 1984.
Bill was married to Lois Ann Dudley from August 7, 1954, until her passing on October 16, 2009. He was married to Alice Lorainne Formon on June 12, 2010, until her passing on February 11, 2021. He accepted Jesus Christ as his Lord and Savior in 1971.
His favorite hymn was "In the Garden." His belief in God and family made him the strongest man his family knew.
Bill is survived by his children; sons, Michael William Marshall from Lancaster, Calif., and John Lawrence Marshall (Donna Anne Marshall) from Virginia Beach, Va; daughters, Sandra Marie Adkins (James Everett Adkins II) from Richlands N.C., and Sherri Ann Moran (Marcus Dwayne Moran) from Mooresville, N.C.; grandchildren, Richard Steven Yarmosh, Nicole Shannon Elkin (Justin Linville Elkin), Kevin William Yarmosh (Lethe Kazi Yarmosh), Paul William Marshall (Carla Elizabeth Marshall), David Benjamin Marshall, Morgan Ann Moran, Jessica Renee Hitt (Drew Hitt), and Leah Rae Stine (Pete Stine); great-grandchildren, Nevaeh Marie Elkin, Ryland Justin Maxdon Elkin, Dylan Anavrin William Elkin, Prudence Ann Elkin, Chloe Nicole Elkin, Layla Quinn Yarmosh and Khalil Ezra Yarmosh, Taylor Avery Hitt, Zackary William Stine, Kaden James Stine and River Marie Stine.
A graveside inurnment, with full military honors, will be held at a later date at Arlington National Cemetery.
In lieu of flowers, memorials may be made to American Heart Association, P. O. Box 5216, Glen Allen, VA 23058-5216 or Alzheimer's Association, 4600 Park Road, Suite 250, Charlotte, NC 28209.
Cavin-Cook Funeral Home and Crematory, Mooresville, N.C., is serving the Marshall family. Condolences may be sent to the family at www.cavin-cook.com.