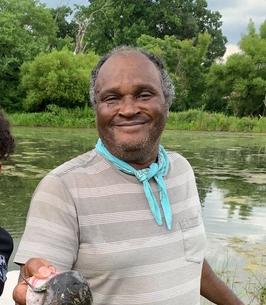 Mr. John William Smyre, who was affectionaly called "Alf," was born in Iredell County on May 8, 1952, and was the son of the late Robert Lee And Hazel Redon Smyre. He departed this life on Monday, September 13, 2021.
He was a graduate of North Iredell High School and prior to his retirement he was employed as a diesel mechanic for Freightliner. He attended Siloam AME Zion Church and Society Baptist Church. He was married to Rosette P. Smyre, who survives. He was preceded in death by his brothers, James Philip Smyre, Herbert Smyre, Robert "Buster" Smyre and Richard Smyre.
In addition to his wife, Rosetta Smyre, he leaves to cherish the memory of his life a son, John Phillip (Cheyenne) Smyre of Harmony, N.C.; a daughter, Wanda Renee (Kenneth) Sneed of Yadkinville, N.C.; a brother, David (Nancy) Sneed of Harmony; three sisters, Hazel Mae Williams of Taylorsville, N.C., and Thelma I. Gaither and Doretha (Robie) Nichols, both of Harmony; five grandchildren, Arielle Scudder, Isaiah Smyre, Octavia Smyre, Malikih Smyre and Kensley Sneed; two sisters-in-law, Lois and Kassandra; a brother-in-law, William J. Parsons of Taylorsville; and a host of nieces, nephews, cousins, other relatives and friends.
Rutledge and Bigham Funeral Home is serving the family.